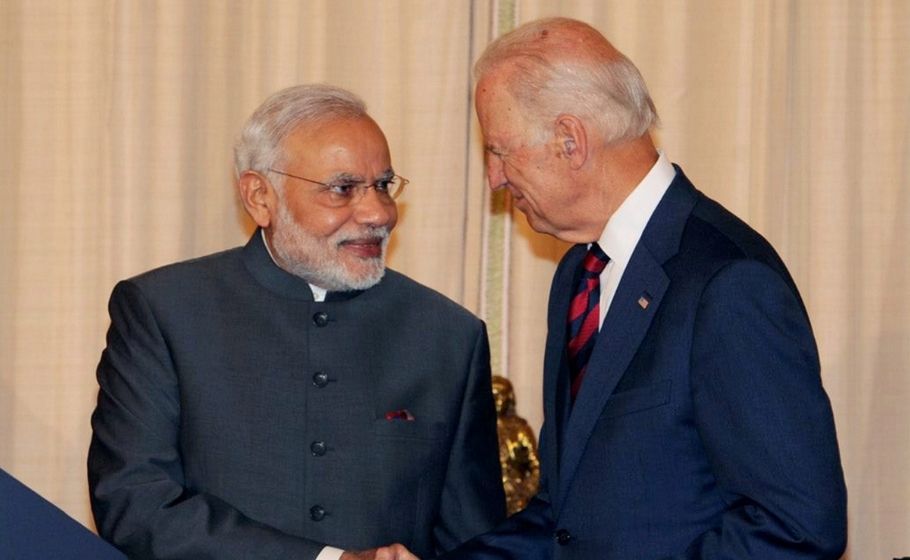 President Joe Biden and Prime Minister Narendra Modi discussed the importance of the US-India strategic technology partnership and committed to continue working together and in groups like the Quad to advance economic growth and expand cooperation on their shared priorities, a US presidential spokesperson has said.
A phone call between the two leaders took place on Tuesday following the announcement of a historic deal between Boeing and Air India for the latter to buy more than 200 planes from the American plane manufacturer.
US-India ties
"The two leaders reaffirmed the strength of the US-India relationship and committed to continue working together and in groups like the Quad to advance economic growth for our two countries and expand cooperation on their shared priorities," White House Press Secretary Karine Jean-Pierre told reporters at a news conference in Washington.
Also read: Modi, Biden team up to announce Indo-US climate agenda for 2030
In November 2017, the US, Australia, India and Japan gave shape to the long-pending proposal of setting up the Quad to develop a new strategy to keep the critical sea routes in the Indo-Pacific free of any influence, amid China's growing military presence in the strategic region.
China claims nearly all of the disputed South China Sea, though Taiwan, the Philippines, Brunei, Malaysia and Vietnam all claim parts of it. Beijing has built artificial islands and military installations in the South China Sea.
Responding to a question, she said the White House does not have a trip or a meeting to announce at this time.
Good discussion
"I'll just leave it there. But they had a very good discussion," she said when asked whether President Biden has invited Prime Minister Modi to the White House this summer.
According to the press secretary, they discussed the historic agreement for Air India to purchase over 200 American-made aircraft from Boeing.
President Biden noted how the sale will support over 1 million American jobs across 44 states and help Air India meet growing demands for air transportation in India, Jean-Pierre said.
While announcing the Boeing-Air India deal, Biden asserted that together with Prime Minister Modi, he was looking forward to deepening the ties between India and the US.
Boeing-Air India deal
As per an announcement from the White House, Boeing and Tata Group-owned Air India have reached an agreement under which the airline will purchase 190 B737 MAX, 20 B787, and 10 B777X for a total of 220 firm orders valued at USD 34 billion at list price.
The deal will also include customer options for an additional 50 Boeing 737 MAX and 20 Boeing 787, totalling 290 airplanes for a total of USD 45.9 billion at list price.
The Air India order is Boeing's third biggest sale ever in dollar value and second in terms of the number of planes.
Also read: China slams Indo-US military drills, says it violates bilateral deal
This announcement follows the inaugural launch of the US-India initiative on Critical and Emerging Technology (iCET) last month.
The initiative is aimed at expanding the strategic technology partnership and defence industrial cooperation between the governments, businesses, and universities of the two countries.
Biden and Modi announced the iCET in May 2022.
(With agency inputs)