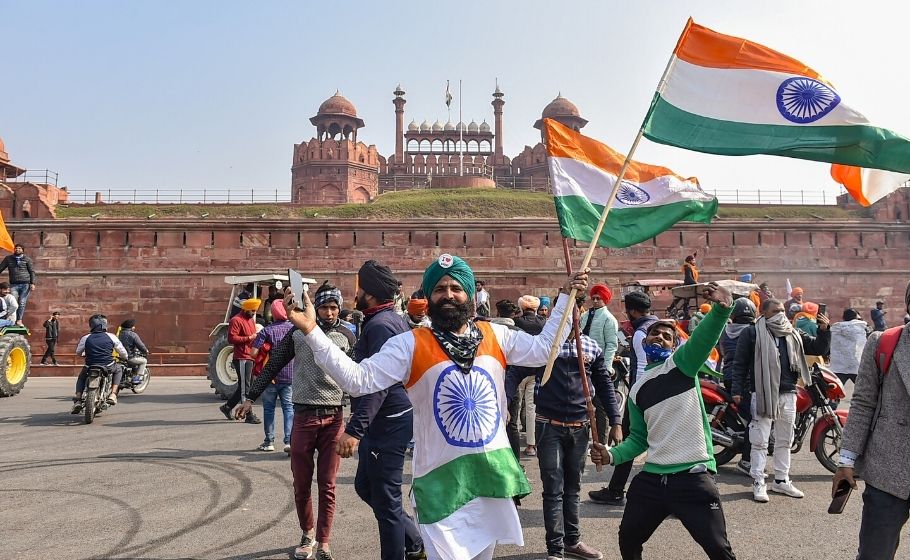 A day after violence shook Delhi before and during the tractor parade by agitating farmers against three farm laws, Delhi Police filed 22 cases, naming several farmer leaders in the first information reports.
Sources quoted by NDTV said the Crime Branch and the Special Cell are likely to probe the violence. Delhi Police are also likely to file an FIR for the incidents of violence in which 86 police personnel were injured and eight buses and 17 private vehicles were vandalized.
A case has also been registered against unknown protesters, including the farmer who died after his tractor overturned.
Traffic, Metro and internet services, disrupted on Tuesday (January 26), are being restored.
The Delhi Metro Rail Corporation said on Wednesday (January 27) that the entry and the exit to the Red Fort metro station and the entry at Jama Masjid metro station have been closed. Operations at the rest of the metro stations are running normal, though trains were delayed, it added.
The police said 86 policemen were injured during the violence, which took place in and around Mukarba Chowk, Gazipur, ITO, Seemapuri, Nangloi T-Point, Tikri Border and the Red Fort. Baricades were broken at Ghazipur, Tikri and Singhu borders.
The police also said that the Sayunkt Kisan Morcha had held several rounds of meetings with them and given an undertaking about a peaceful rally on pre-decided routes. Violence started after protestors embarked on their rally around 8 am – four hours before the scheduled time and deviated from the routes decided in consultation with the police authorities.
Also read: Extremists in garb of food providers: BJP's Patra on violence during farmers protest
"Despite persuasion by Delhi Police, the farmers led by Nihangs on their horses fully equipped with deadly weapons like swords, kripans and fursas charged at the police and broke the several layers of barricades, which were erected between Mukarba Chowk and Transport Nagar," said a police statement.
It said that at ITO, where the police headquarters is located, a large number of farmers who came from Gazipur and Singhu borders attempted to move towards the New Delhi district. When they were stopped by police, violence broke out.
Most of the protesters on Wednesday morning returned to their protest site. Bharatiya Kisan Union spokesperson Rakesh Tikait has reiterated that those who indulged in violence were not farmers.
A high alert has been sounded in Punjab and Haryana. Mobile internet services were suspended in Sonepat, Jhajjar and Pawal districts of Haryana.
Also read: Left parties condemn violence during farmers rally, blame govt for letting things go out of hand