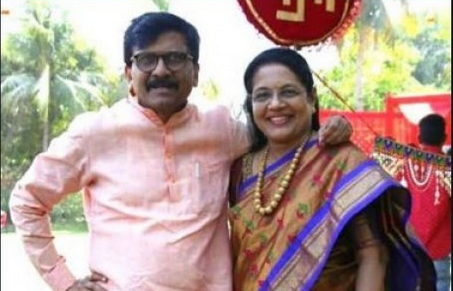 The wife of Shiv Sena MP Sanjay Raut, embroiled in a case related to Punjab and Maharashtra Cooperative Bank (PMC) scam, did not appear before the Enforcement Directorate on Tuesday (December 29) and sought time till January 5, reports said.
This is for a third time that Varsha Raut skipped summons from the Central financial probe agency. Sanjay Raut has lashed out at the investigation, saying "targeting women is an act of cowardice."
The Reserve Bank of India in September last year had capped the withdrawal limit and restricted the activities of the PMC Bank after an alleged fraud of Rs 4,355 crore surfaced.
Sanjay Raut has alleged conspiracy to destabilize the Uddhav Thackeray government. He has also alleged that certain MLAs of the three-party ruling Maha Vikas Aghadi coalition would be forced to quit under pressure of Central probe agencies.
The case against Varsha Rawat pertains to money laundering in the PMC Bank.
Also read: PMC Bank scam: SC stays HC order allowing shifting of HDIL promoters from jail to their residence
BJP leader Kirit Somaiya, in a series of tweets, has criticized Raut for his comments alleging BJP conspiracy behind the probe. Questioning the Shiv Sena's hostile reaction, Somaiya said the ED was merely seeking to interrogate his wife in connection with the case.
"Shiv Sena leader Sanjay Raut, please clarify whether Varsha Sanjay Raut has received 3 summons (notices) to appear before ED in the fourth week of November, second week of December and fourth week of December 2020? Understood ED investigating PMC Bank, HDIL (real estate development firm) flow of funds," Somaiya tweeted.
"If ED asks a family how, what for you/your family received Rs 55 lakh from HDIL, then what is wrong? It must be noted that PMC Bank got burst due to HDIL," Somaiya further tweeted.
Sanjay Raut held a press conference later and hit out at the BJP. "Who has given BJP so such information? BJP leaders have been to ED office in the past three months and we know they have been getting some papers," Raut said, adding "no one can destabilize the government".