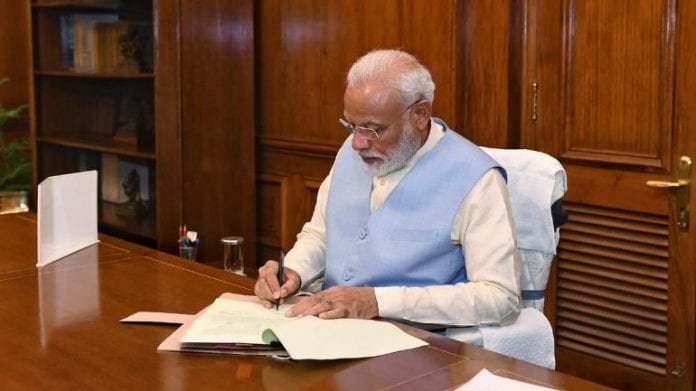 Prime Minister Narendra Modi stepped up his official and political engagements on Monday (June 1), signalling the first step towards resumption of normal activities.
As he began with a Union Cabinet meet, a preview of his schedule reveals a packed engagement this week with 28 significant meetings. Though the Prime Minister and his office had continued to function even during the 69-day lockdown due to COVID-19, there was a certain curtailment of his official engagement.
A day after the announcement of Unlock-1, the Prime Minister's Office began to have more engagements. This coincided with the first day of his seventh year in office as the Prime Minister.
Advertisement
On Tuesday (June 2), Modi will be addressing the annual session of the Confederation of Indian Industry (CII) online. The virtual meeting gains importance as Modi will speak to the top honchos of the Indian industry and apparently share his vision on how he intends to put the economy back on the track.
Related News: Cabinet nod for ₹50K-cr MSME equity infusion, crop support price hiked
For the top brass, the annual CII gathering has been a major event in the business calendar as they get an opportunity to hear first hand the Prime Minister on important aspects of the economy.
India's GDP growth rate in the fourth quarter of 2019-20 was disappointing and the situation is, in no way, likely to be better in the first quarter of the current year due to the impact of COVID-19.
Industrialists, therefore, will be hanging on to each word uttered by Modi. Sources in the PMO said that Modi would share his vision on 'Getting Growth Back' with India Inc.
On June 3, Modi will be chairing a meeting of Cabinet Committee on Economic Affairs (CCEA) to discuss modalities for the setting up of a Migration Commission. This has become extremely urgent following widespread migrant distress.
Related News: 70% Indians want Modi to be PM for another term: Yediyurappa
The next day, he will host a video conference with his Australian counterpart Scott Morrison. The leaders are likely to put their signatures to the 'Mutual Logistics Support Agreement' which will pave the way for a greater defence cooperation between the two countries.
On June 9, Home Minister Amit Shah will launch BJP's campaign for the Bihar Assembly elections and address party workers. He will also address a public rally online.
With limited resumption of flights, trains and buses, Union Ministers have worked out detailed programmes for political events. The Parliament standing committees are also set to meet in Delhi from Thursday (June 4).
Besides, the Election Commission on June 1 announced that elections to Rajya Sabha would be held on June 19. The biennial polls that were scheduled to be held on March 26 are set to be conducted to 18 seats from Andhra Pradesh, Gujarat, Jharkhand, Madhya Pradesh, Manipur, Meghalaya and Rajasthan.
The elections were deferred indefinitely due to the sudden announcement of lockdown. So, several prominent leaders, including Jyotiraditya Scindia, were cooling their heels for the last two months.
Related News: Cyclone Nisarga: Shah meets NDMA officials; 9 NDRF teams deployed
In the wake of the pandemic, all political activities had come to a grinding halt. Even the 37 candidates who were elected unopposed to the Upper House in March could not take oath due to lockdown.
Rajya Sabha Chairman and Vice President M Venkaiah Naidu is yet to decide on the new dates for the oath-taking ceremony as many members are facing difficulties in travelling to Delhi. It appears that all the members will take oath together after June 15 when the Unlock-2 is likely to begin.
Meanwhile, Anand Sharma, chairman of the department-related standing committee of Rajya Sabha on Home Affairs has deferred the meeting of the committee convened on June 3 as several members expressed their inability to come to Delhi as they had been placed in quarantine in their respective states.
Earlier, Naidu and Lok Sabha Speaker Om Birla had opined that they were not empowered to suspend rules regarding confidentiality of committee meetings and allow virtual meetings. Accordingly, it was decided to refer this matter to the rules committees of both the Houses.