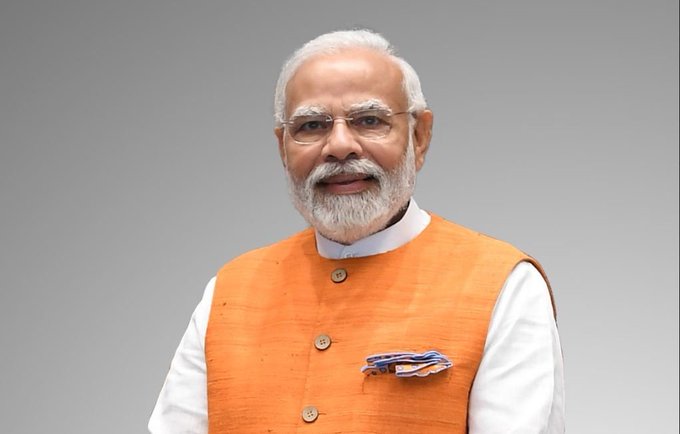 On Thursday, Prime Minister Narendra Modi emphasized that the country is dedicated to improving the lives of its tribal population with a level of pride that was not witnessed before. He underlined that the welfare of these communities is a matter of "personal relations and sentiments" to him.
Modi inaugurated Aadi Mahotsav, a mega national tribal festival to showcase the tribal culture on a large scale, and listed steps taken by his government since 2014 to boost progress of the community.
For the first time, a tribal in Droupadi Murmu has occupied the top constitutional post in the country, he said, adding the budgetary allocation for the community has risen manifold since 2014.
Also Read: BJP committed to development of Meghalaya, Nagaland: PM Modi
He called upon the people of Delhi and neighbouring states to visit the festival to witness the rich tribal culture and nutritious food products being showcased from across the country.
Let's ensure that they sell all their products, the prime minister said.
The government is now going from Delhi to those considered remote and bringing them in the mainstream, he said.
Tribals played a big role in India's freedom movement but attempts were made for decades to ignore these golden chapters and the sacrifices made by men and women from the community, he said, adding his government is now bringing them to light in the "Amrit Kaal".
Also Read: PM Modi speaks to his Spanish counterpart
For the first time, the country has started celebrating Janjatiya Gaurav Diwas on the birth anniversary of Bhagwan Birsa Munda. Museums on the life and contribution of tribal leaders are coming up in various states. It will provide inspiration and give direction to the country for many centuries," he said.
Modi said his government has worked to boost the demand for tribal products, noting that over 1.25 crore tribals, especially women, are part of over 80 lakh self-help groups across the country.
"Aadi Mahotsav celebrates India's glorious tribal culture and traditions. It is taking our strength of unity in diversity to new heights. It makes our idea of vikas and virasat livelier," he said.
Aadi Mahotsav is like an infinite sky where the diversity of India is projected like the colours of a rainbow, the PM said.
Also Watch: PM Modi inaugurates Delhi-Mumbai expressway; Here's all you need to know!
Modi recalled his long association and work among the tribal community as he worked in different capacities, starting as an RSS pracharak to BJP organisation leader and then heading government first in Gujarat and then at the Centre, and said their welfare has been a matter for personal relations and sentiments for him.
Tribal welfare is also a matter of personal relationships and emotions for me…Tribal life has taught me a great deal about the country and its traditions," the prime minister said while recalling that he spent important years of his life in the tribal belt of Umargam to Ambaji.
He said he has tried to ensure that gifts given to foreign leaders include the works of tribals.
The prime minister has often highlighted the traditional lifestyle of tribals who have traditionally practised sustainable development and which offers solutions to the challenges of climate change and global warming.
Also Read: High turnout in Tripura polls; ruling BJP uncertain, Left-Congress alliance upbeat
He said more than 3,000 Van Dhan Kendras have been established in the country under the Van Dhan Mission. About 90 minor forest products have been brought into the ambit of the minimum support price, seven times more than the number in 2014.
The recently announced scheme, Pradhan Mantri Vishwakarma Kaushal Samman (PM-VIKAS), will also help boost skills and craftsmanship among the tribals, he said.
Modi said the number of Eklavya Model Residential Schools has gone up by five times — from 80 schools in 2014 to 500 schools in 2022.
More than 400 schools have already started functioning, teaching about one lakh children. This year's budget has announced 38,000 teachers and staff for these schools. Scholarships for tribal students have been doubled, he said.
Tribal children, their education and their future is my priority," the prime minister said.
Also Read: Rahul Gandhi to speak at Cambridge University during UK visit this month
The Aadi Mahotsav, which celebrates the spirit of tribal culture, crafts, cuisine, commerce and traditional art, is an annual initiative of the Tribal Cooperative Marketing Development Federation Limited (TRIFED) under the Ministry of Tribal Affairs.
This year, it is being organised from February 16 to 27 at the Major Dhyan Chand National Stadium in Delhi, a statement said.
It will showcase the rich and diverse heritage of tribes from across the country in over 200 stalls at the venue.
1000 tribals to participate
Around 1,000 tribal artisans will participate in the exercise.
Since 2023 is being celebrated as the International Year of Millets, a special focus will be on showcasing "Shree Anna", a recent government nomenclature for millets grown by tribals along with usual attractions like handicrafts, handloom, pottery and jewellery, the statement added.
The PM stressed the need to spread awareness about the food of tribal areas as it will not only benefit the health of the people but also increase the income of the tribal farmers.
(With agency inputs)