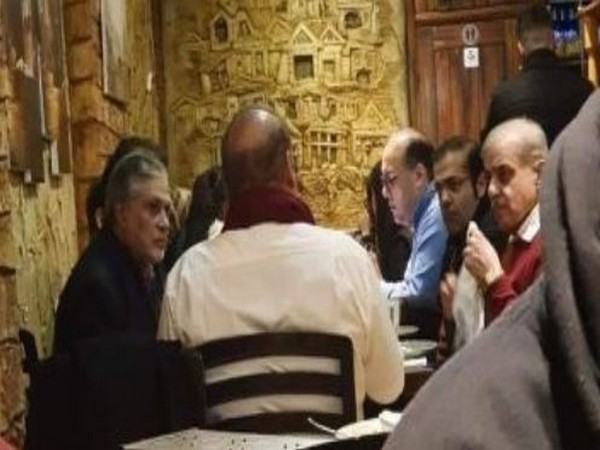 A picture of Nawaz Sharif at a restaurant in London that went gone viral on social media, on Tuesday (January 14), has raised several questions in the political circle about his health.
Pakistan's former prime minister had gone to London after the government permitted him to travel abroad for the medical treatment during his bail period of four weeks without the condition of submitting indemnity bonds.
He is seen having dinner with his son Hamza and PML-N President Shahbaz Sharif. The photo, in which he is seen stable, has raised several questions about his critical health condition.
According to Dwan, the photo may cause a problem for the former prime minister in securing extension in his stay from the PTI-led Punjab government.
Sharif had on December 23 sought extension in his stay abroad on the expiry of the four weeks allowed by the court to go to London for medical treatment.
Taking a dig at the picture, Federal Miniter Fawad Chaudhary, tweeted, "In London's intensive care unit, the treatment against plundering is underway and all patients present (there) are feeling better," he wrote. The picture was also reportedly discussed at a meeting chaired by Prime Minister Imran Khan in Islamabad, ANI stated.
As the picture went viral, the Buzdar administration swung into action and sought the latest reports about Sharif's health from his physician Adnan Khan.
However, claiming that doctors have advised Sharif for a change of environment, Dwan quoted a PML-N leader from London, saying, "Doctors have advised Nawaz Sharif to go out for a change of environment. They insist that staying indoors will not be good for his health. Therefore, Sharif has started going out. On Sunday, Sharif along with his family members had a walk to catch fresh air and had a tea in a restaurant."
According to a media report on Friday, Sharif's health has shown signs of improvement as his platelet count rose to 51,000 even though his blood pressure and sugar level is still high.
(With inputs from ANI)