The famous Pattachitra paintings of Odisha's Raghurajpur village may have embellished the walls of several houses and edifices across the world. But closer home they have become a faded reality for many 'chitrakars' (painters), who having lost a chunk of their work — some even worth lakhs — to cyclone Fani, now look at a bleak future.
One of the oldest art forms of the state, Pattachitra, a portmanteau of 'patta' (canvas) and 'chitra' (picture), are scroll paintings mostly based on mythological themes from the Puranas, epics like Mahabharata and Ramayana and stories from the Jagannath cult. With the art handed down from one generation to the other, the paintings, are extremely intricate in nature and a product of years of training, reading and delicate strokes.
Traditional artists, whose homes double up as their studios, use 'patti' — a canvas made of cloth, chalk powder, tamarind seed glue and natural colours to work on a piece. While a piece may take anywhere from a couple of days to a year to make, its price is defined by the level of detailing that goes into making it. While the Pattachitra palm leaf engravings are equally popular, the paintings have also been used in beautifying crafts out of paper mache, wooden and palm leaf toys and those moulded from raw coconut, 'polanga' seeds and beetle nuts.
Even as it is the only source of livelihood for 140 artist families, of the 170 residing in Raghurajpur, the hard work of years of many painters have been literally washed away by Fani.
Pramod Kumar Das, who lives in a decrepit thatched house with his family of eight in the village, says they have been sleeping in a village guest house since the cyclone as they fear their house, vigorously shaken by the cyclone, may crumble when they are asleep.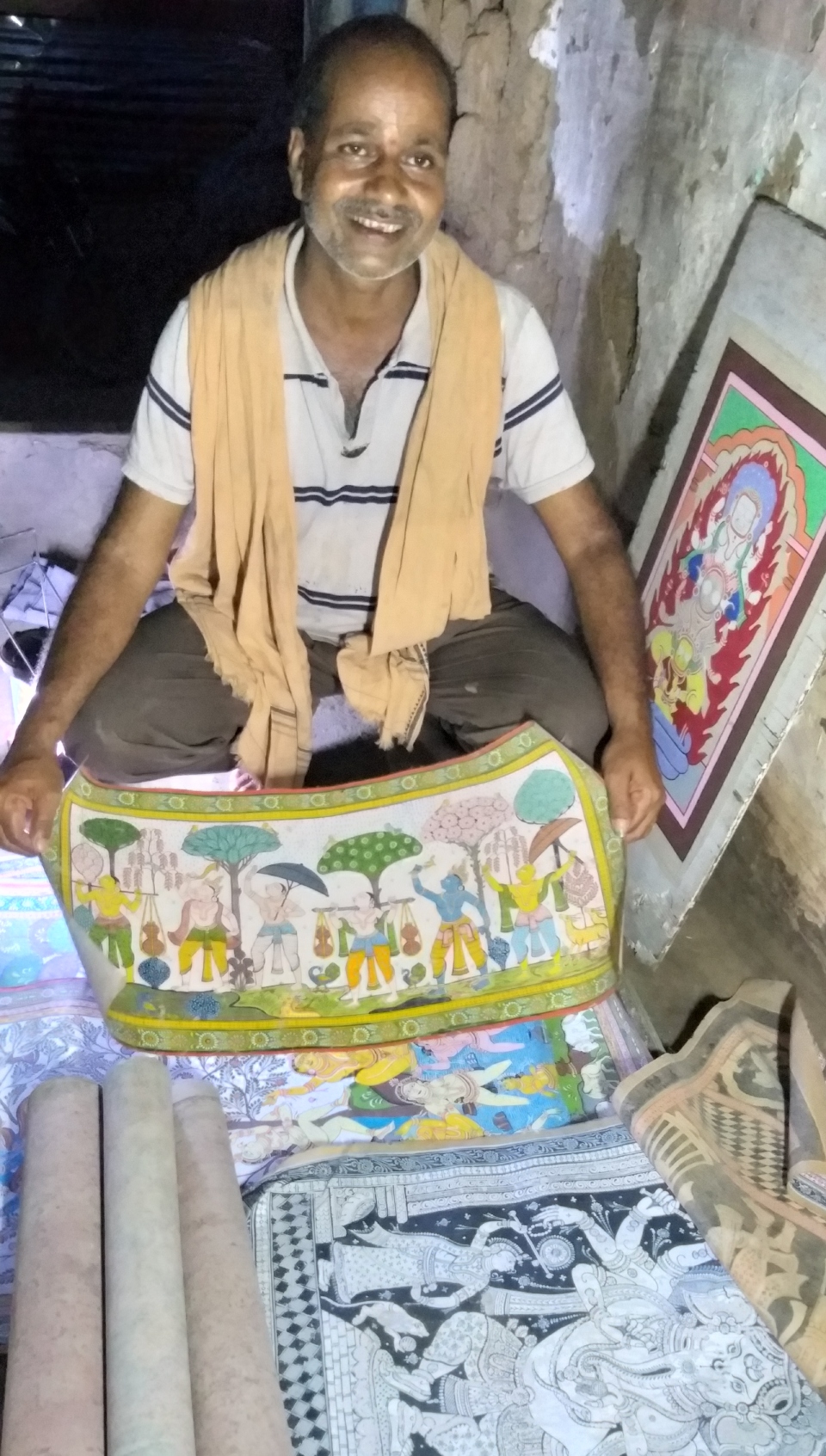 "I have lost paintings worth ₹1 lakh," says Das, showing us a washed out Pattachitra painting based on the theme of Ramayana that cost more than ₹5,000. Das is also among one of the few artists who make 'Ganjappa', a type of Mughal playing cards that is becoming extinct. "Cost of a Ganjappa set of 52, 120, 144, 254 or 296 playing cards may vary from ₹3,500 to ₹10,000. But most of them have been spoilt due to the cyclone," says a dejected Das, who often travels to other cities to work as a mural artist at sites of hotels and other buildings.
Cyclone Fani rips village apart
Residents say while the cyclone has rendered water of the village's pond — specifically used for cooking — useless, it has ripped off the entire greenery of the village including trees that were a source of raw material for making crafts.
"We make crafts out of coconut and its byproducts, 'polanga' seeds and beetle nut. But, with almost all the trees including coconut, tamarind, 'polanga' and beetle nut gone, we will have to get our raw material from elsewhere, which will again dig a hole in our pockets," says Bhagaban Swain, 64, a retired schoolteacher and an artist.
At the other end of Raghurajpur village is located its less famous cousin Basudevpur village. Here even as some artists go about their usual routine of carving figurines and palm left engravings and filling Pattachitra paintings with suitable tinges, others try to salvage what is left of their damaged studios. One such person is Jyoti Ranjan Pradhan, a third-generation Pattachitra artist. On a normal day, Pradhan would be working in his studio training apprentices and getting Pattachitra paintings and wooden idols of the three deities of Puri Srimandir ready, ahead of the Ratha Jatra. These days he sits dejected outside his studio, the tin roof of which had collapsed on the cyclone day, washing off and spoiling paintings and crafts worth ₹7 lakhs.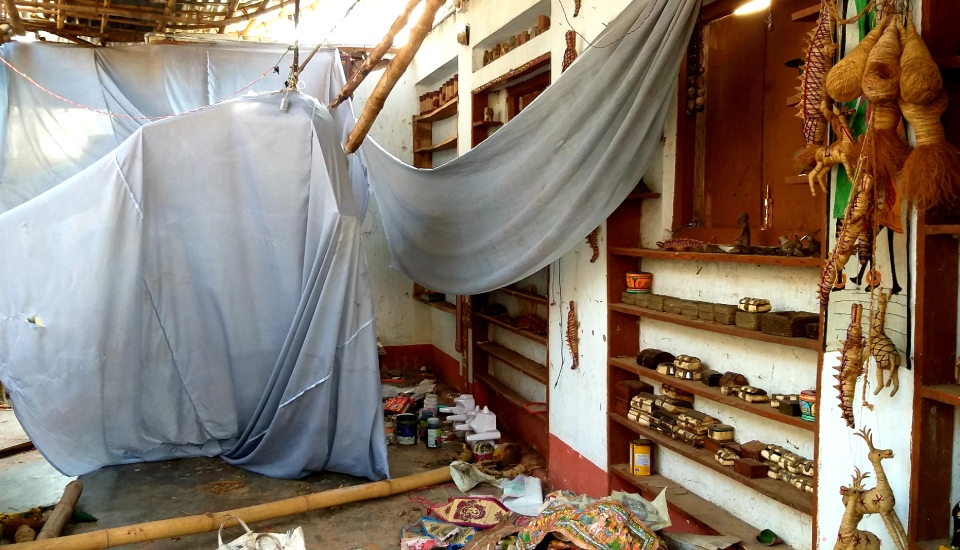 "It takes almost one month's time to make a painting like this," says Pradhan showing us a severely washed out version of a once-vibrant 4X2.5 ft piece of Pattachitra scroll showing the many avataars of Lord Vishnu.
"Almost 25 years of labour put in setting up this place is gone. I had to throw out almost 60 pieces of paintings worth lakhs because I couldn't bear to look at them and think that no one would ever buy them," he says.
Almost 25 years of labour put in setting up this place is gone. I had to throw out almost 60 pieces of paintings worth lakhs because I couldn't bear to look at them and think that no one would ever buy them – Jyoti Ranjan Pradhan, Pattachitra artist
Even as government officials paid a visit to the village to assess the damage, the artists say they are still awaiting the reply of the government regarding compensation. "The officials have asked us to give them an account of damage and said that a committee would be formed in every district to decide compensation for artists," said Biswanath Swain, president of the heritage village.
With Pattachitra being a hereditary art, Swain said it is important that the 'pattas' (land deeds) are transferred to the artist from their father's name to make them eligible for compensation. "Also, rumours that the roads to Puri and Raghurajpur are blocked have deterred many tourists from visiting this place for more than two weeks. Making Pattachitra paintings is the only skill we have known to survive. More awareness should be created both by the government and the media that despite being severely affected by the cyclone, we are still capable of churning out art," Swain says.
Also read: Tourism takes a hit post Fani, but Puri remains indefatigable
Good Samaritans
As if in answer to Swain's prayers, several NGOs and individual groups in a gesture of solidarity have paid visits to the village with stocks of food and water. Despite being in the middle of crisis themselves, the villagers welcome these visitors like their own, offer them their rationed food and water and see them off with coconuts from their farms.
"As citizens, it is our moral responsibility to see that the artists, who work day in and day out to preserve our ancient heritage, should not go hungry during a crisis like this. Not many people understand that these people despite being in trouble will never ask for relief even though they need it. So it should be our responsibility to come to their doorsteps and help them with whatever we can," says Hiten Seth, a Cuttack-based businessman, who along with his friends went to visit the village with cans of water and packets of biscuits and dry savouries.