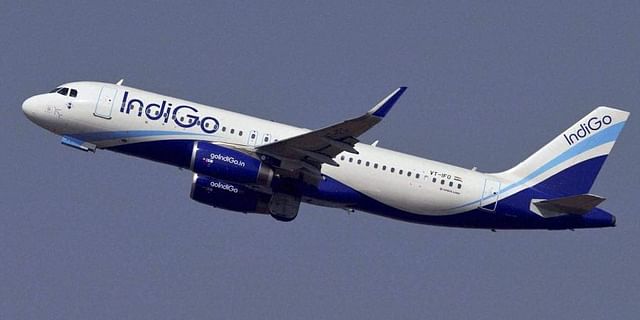 Passengers insist on pilot change after IndiGo flight aborts Mumbai landing, diverted to Udaipur
An IndiGo flight that took off from Lucknow at 11.10 am on Tuesday (June 13) and was supposed to land in Mumbai two hours later finally reached its Mumbai destination at 8 pm (about seven hours after the scheduled arrival) after two aborted attempts to land.
According to passengers on the flight, the plane made two aborted attempts to land in Mumbai, and after the pilot decided to divert the plane to Udaipur, made another aborted attempt to land in Udaipur, before finally safely touching down at Udaipur airport.
The airline blamed bad weather at Mumbai for the plane being diverted to Udaipur.
Sources at Mumbai ATC attributed the reason for the diversion to gusty winds in Mumbai due to the impact of the cyclone Biparjoy.
Also read: IndiGo plane suffers technical problem; diverted to Hyderabad
However, the passengers on board the plane were not convinced that the weather conditions were the only thing to be blamed. After landing at Udaipur, the passengers remained inside the plane and insisted that the airline change the pilot for the ensuing flight to their actual destination, Mumbai.
Several passengers tweeted complaints to the civil aviation minister Jyotiraditya Scindia and the civil aviation regulator DGCA.
One of the passengers Jaspreet Singh tweeted, "This is Indigo flight #6E2441. Left for Mumbai from Lucknow at 1110 and was supposed to reach at 1315, got diverted to Udaipur and landed at 1515, all passengers still sitting in the aircraft with no clear information. This is really disgraceful @IndiGo6E."
https://twitter.com/Jaspreet68BJP/status/1668584601533714433
Others from the general public tweeted in reply that the aborted attempts at Mumbai must have been due to the strong winds in Mumbai, and that the pilot must have diverted the plane for the passengers' safety. Another person said that the pilot was the best judge of the situation and was trained to take the right decision.
Also read: IndiGo flight makes emergency landing at Karachi airport; passenger dies
A spokesperson for IndiGo said, "Due to bad weather, the pilot could not land in Mumbai and decided to go to Udaipur. After landing in Udaipur, he said he was fatigued and hence asked for crew replacement. This took some time and the flight left after 6 pm."
(With inputs from agencies)