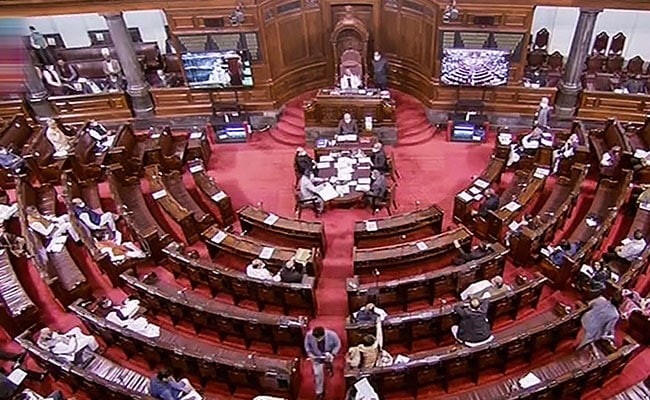 Both the Lok Sabha and Rajya Sabha on Monday (April 3) were adjourned till April 5 amid protests by Opposition members over the Adani issue.
Proceedings in both the Houses will resume at 11 am on April 5.
Earlier in the morning, both the Houses were adjourned till 2 pm soon after resuming after a break of four days.
Amid ruckus by Opposition benches, proceedings in the Lok Sabha were adjourned obituary references to late BJP MP Girish Bapat and former MP Innocent.
Rajya Sabha proceedings were adjourned for the day after passing the Competition (Amendment) Bill, 2023 without discussion.
Soon after the Upper House reassembled at 2 pm, Chairman Jagdeep Dhankhar greeted the members on the occasion of Rajya Sabha Day and urged them to participate in discussion, dialogue and deliberations instead of indulging in disruptions.
Finance Minister Nirmala Sitharaman then moved the Competition (Amendment) Bill, 2023 for consideration and passage amid slogan-shouting by Opposition members.
Dhankhar put the Bill to voice vote even as the Opposition members continued slogan shouting and passed it before adjourning the House for the day.
The bill, which was passed on March 29 by Lok Sabha, provides for the Competition Commission of India (CCI) to impose penalties on entities based on their global turnover instead of the current practice of considering only relevant market turnover.
The Corporate Affairs Ministry has made certain amendments to the original bill.
The Bill was introduced in Parliament on August 5 last year. Then, it was referred to the Parliamentary Standing Committee on Finance chaired by BJP member Jayant Sinha. The panel tabled its report in Parliament on December 13.
The second phase of the Budget session has seen regular disruptions and no discussions since it began on March 13 amid a war of words between the government and the Opposition on Rahul Gandhi's London speech on democracy and the Adani issue.
Congress leaders have been coming to the Parliament dressed in black in protest against Rahul's disqualification from the Lok Sabha.
Rahul accompanied by sister Priyanka Gandhi Vadra and other Congress leaders has reached Surat to file an appeal in a court against his conviction in a criminal defamation case.