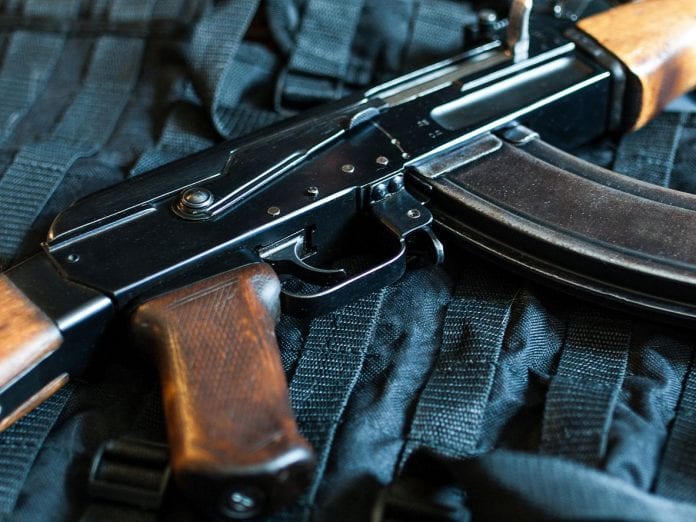 In at least eight sorties, Pakistan-based Khalistani groups have dropped arms and ammunition, counterfeit currency and narcotics in Punjab, using GPS-fitted Chinese drones over the past eight days, Punjab police and security agencies have said.
It was the first incident reported in Punjab, in which drones were used to drop weapons and communication devices, among others, from across the border, an official said, adding that a half-burnt drone used in the operation was recovered from Tarn Taran.
The arms almost 80 kg of weapons includes five AK-47 rifles, 16 magazines and 472 rounds of ammunition, four Chinese-made .30 bore pistols, along with eight magazines and 72 rounds of ammunition; nine hand grenades, five satellite phones with their ancillary equipment, two mobile phones, two wireless sets and fake currency with the face value of ₹ 10 lakh were seized, according to a PTI report.
Investigation revealed that the weapons were meant to carry out 26/11-like attacks in Punjab and Jammu and Kashmir. Police said the consignment which was smuggled by the Khalistan Zindabad Force (KZF) with the help of its members in Pakistan and Germany had the backing of Pakistan's intelligence agency Inter Services Intelligence (ISI).
Police have arrested five people in this connection so far. While four members of the terror module were arrested from the outskirts of Chola Sahib village in Tarn Taran on Sunday (September 22), police arrested another 22-year-old member on Tuesday (September 24). Police said he was from Amritsar district and was radicalised by Mann Singh, the prime accused, and Akashdeep, his associate in Amritsar Jail.
Modus operandi
The accused after interrogation revealed that KZF's Germany-based operative Gurmeet Singh Bagga along with his Pakistan-based chief Ranjeet Singh aka Neet delivered four weapons, grenades, electronics and fake currency through drones between September 6 and 16.
Arrested terrorist Akashdeep told police that he was in touch with Ranjeet, whose number he got from Gurmeet. Explaining the modus operandi police said it was Gurmeet who would first share the information about the consignment with Ranjeet and Akashdeep would decide the place and time to drop the consignment.
The plan came to light after Punjab police seized a half-burnt drone from a rice shelling unit in Chabhal area on Bhikhiwind road in Tarn Taran during a probe into the weapons seizure on September 22. The eight payloads were dropped in Amritsar and Tarn Taran.
It was recovered based on information received from the accused during questioning, PTI quoted a police official as saying.
"The accused said the drone was burnt as it failed to return to Pakistan after dropping off the first consignment of weapons in village Bhuse (in Tarn Taran)," the official said.
After it crashed, operators of the drone in Pakistan sent the location of the crash to the accused, who recovered it and later, burnt it, the police official said.
Police, along with a forensic team, recovered some parts, including a GPS antenna, of drone on Tuesday.
"Some parts of drone have been disposed of in a canal located near Gurdwara Baba Budha Sahib," the police official said, adding that divers will be deployed to recover those.
The investigation was jointly carried out by the Punjab Police, central security agencies, the Border Security Force and the Indian Air Force. It was reported that multiple Chinese drones with 10 kg payloads were used to drop the weapons in the Indian territory.
Quoting investigation findings, a Hindustan Times report said, "the drones may have been launched from locations 2 km inside Pakistan and made to travel the distance of five kilometres at a height of 2,000 feet and then dropped off the weapons after descending to 1,200 feet."
Meanwhile, police recovered a half-burnt drone from the godown of a rice shelling unit located in Chabhal area on Bhikhiwind road in Tarn Taran.
The Punjab Police has directed IAF and BSF to intercept similar drones in Ferozepur district and through low-level radars and destroy them.
Commenting on the busting of the terror module, Punjab Chief Minister Amarinder Singh on Tuesday said the operation has added "a new serious dimension on Pakistan's sinister designs" after the abrogation of Article 370 in Jammu and Kashmir.
"Recent incidents of Pakistan-origin drones dropping consignments of arms & ammunition is a new and serious dimension on Pakistan's sinister designs in aftermath of the abrogation of Article 370. Request @AmitShah ji to ensure that this drone problem is handled at the earliest," the chief minister tweeted on Tuesday.