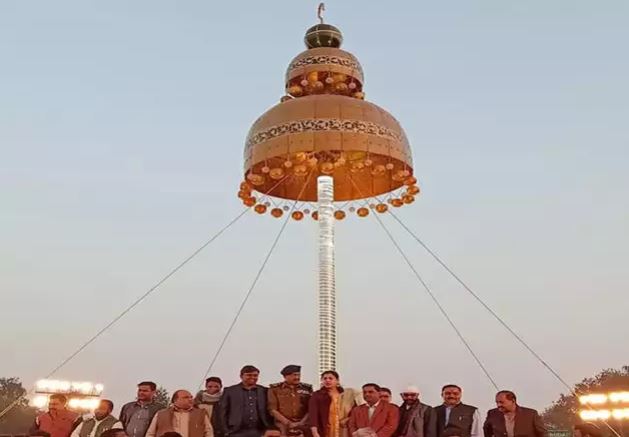 Fifty-four years after Bollywood's heartthrob Sadhna danced to the number Jhumka Gira Re, telling her listeners how she lost her jhumka (earrings) at the market of Bareilly, the city now seems to have restored that piece of jewellery, albeit in a gigantic form.
Cashing in on the famous lines of the song from the film Mera Saaya directed by Raj Khosla in 1966, the city administration of Bareilly has constructed a jhumka tiraha (three-way junction), the main attraction of which is a giant size jhumka – weighing almost 2 quintals – atop a 20-feet high pole.
Cast in brass, the shiny yellow gold dangler, which has a brown emblem and a hook of a diameter of eight feet has been made in Moradabad, the city famous for its metal. It was designed by an artist from Gurugram.
The jhumka tiraha was inaugurated by union labour minister Santosh Gangwar on Saturday (February 8) at Parsa Khera zero-point roundabout on National Highway 24.
"The location was chosen to ensure that the first thing that catches your attention on entering Bareilly, if you are coming from New Delhi, is this fabled ornament," reports quoted a senior Bareilly Development Authority (BDA) official as saying.
Although the construction of this special jhumka was started on the silver jubilee of the film Mera Saaya in 1990, the Bareilly Development Authority (BDA) did not have enough money to complete it. It was then that Dr Keshav, a senior doctor in Bareilly, extended his help for the project.
However, three surma (kohl) bottles are yet to be set up surrounding the main structure at the roundabout, said a Hindustan Times report. 
The project has cost the BDA around ₹18 lakh – ₹8 lakh for the jhumka and ₹10 lakh – for the beautification of the landscape surrounding the main structure.
Notably, no government money was used for the project, even as it faced fund crunch several times, BDA officials said.
"The jhumka had been delayed for some unavoidable reasons. The beautiful project is a collaborative effort of Rohilkhand Medical College, Bareilly International University and few other organisations, and local residents, who helped the BDA with funds in giving shape to the ambitious project that would be considered a landmark," BDA vice-chairperson Divya Mittal told IANS.
The location, design, decoration and several other things were decided by the authority, which employed skilled artisans, who worked diligently ensuring that the jhumka becomes a major attraction for the tourists.
Sadhana played the song Jhumka Gira Re, Bareilly Ke Bazaar so well that it became popular among the people. Ever since, Bareilly and its jhumka have become each other's identity. Sunil Dutt and Sadhana played the lead roles in the film Mera Saaya. The song was sung by Asha Bhosle.