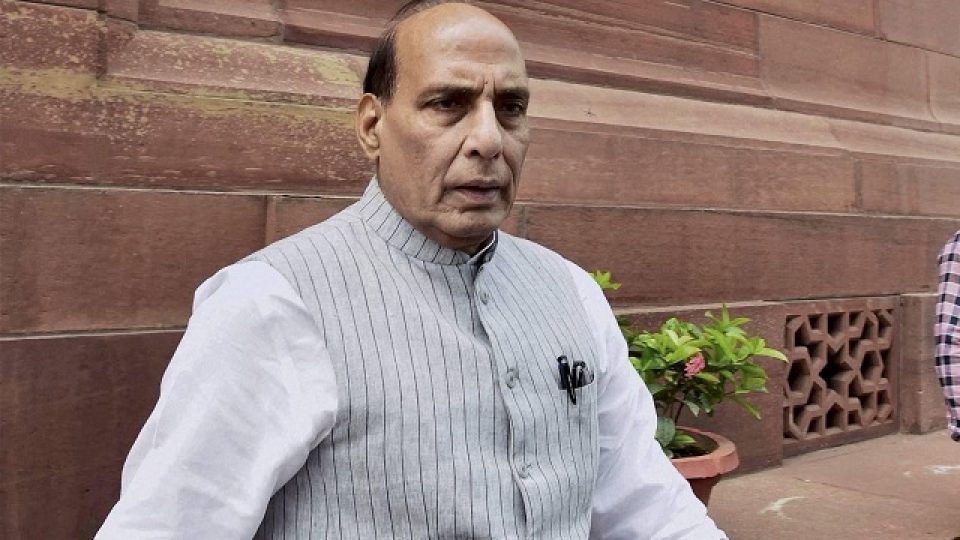 In comments that have gone viral, a convener of army veterans in Karnataka has hit out at Defence Minister Rajnath Singh for skipping a meeting in memory of war heroes, saying the latter had insulted soldiers and their widows.
Singh was supposed to attend the inauguration of 'Veeragallu' at the National Military Memorial in Bengaluru on February 14 in memory of the soldiers killed in war.
Also read: Tawang clash: Oppn walks out after Rajnath address; fighter jets deployed at border
Around 100 ex-servicemen and widows of soldiers were waiting for the minister, who was in Bengaluru to attend Aero India, when the director of the Karnataka State Soldiers Welfare and Rehabilitation Department announced about the cancellation of the programme.
The outburst
Colonel (retired) SS Rajan said in an anguished tone that they came to know about the minister's decision after waiting more than an hour.
"My opening sentence is an insult to you, Hon'ble Defense Minister of India, Rajnath Singh. Is this the respect you have for the soldiers who sacrificed their lives and the widows who came here?" Rajan said, expressing his disgust.
"If you promised to come and inaugurate Veeragallu, you should have stayed here," he said.
He said the "Veeragallu" (Hero Stone) represents the souls of the 22,000 soldiers whose names are engraved on the stone.
Also read: PM Modi, Rajnath Singh pay tributes to martyrs on Kargil Diwas
"The Minister doesn't understand soldiers, doesn't understand the soldiers' sacrifice of their lives for the nation. He doesn't understand soldiers' widows."
'Rajnath sent goons to attack ex-servicemen'

Rajan said Singh in 2015 sent Delhi Police to evict soldiers who were demanding the implementation of One Rank One Pension near Jantar Mantar in the heart of the national capital.
"Singh, you are the same person who was the home minister and police sent goons to attack the aged ex-servicemen who were fasting at Jantar Mantar. The goons took away our medals and tore our shirts, and what can we expect from you now? Shame on you!" he said.
Also read: Indian no longer a weak country: Rajnath Singh on Ladakh border row
The video has gone viral on social media. Netizens expressed their anger at the minister for skipping the event involving the ex-servicemen and widows of soldiers.