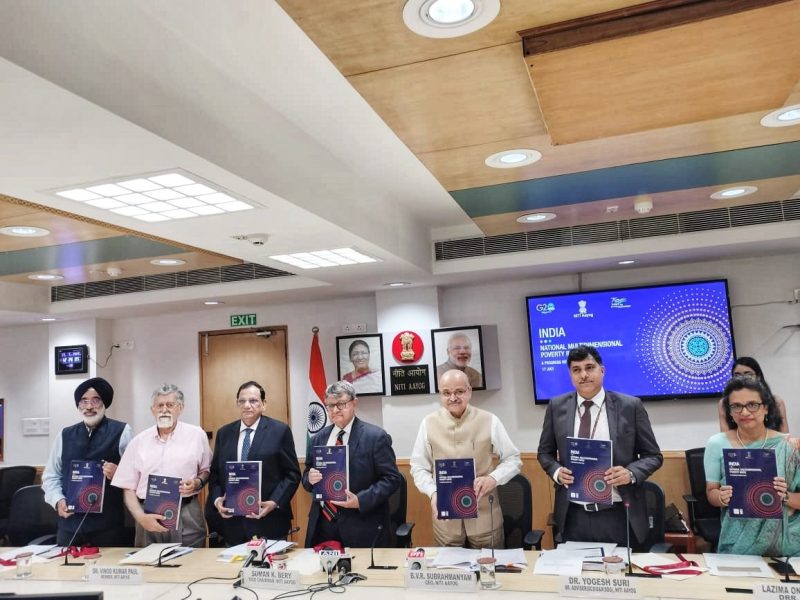 NITI Aayog report: 13.5 crore people moved out of multidimensional poverty in 5 years
As many as 13.5 crore people in five years ended March 2021 moved out of multidimensional poverty, measured by improvement in health, education and standard of living, with Uttar Pradesh, Bihar and Madhya Pradesh registering the fastest reduction, said a NITI Aayog report on Monday.
India has registered a significant decline of 9.89 percentage points in the number of India's "multidimensionally poor" from 24.85 per cent in 2015-16 to 14.96 per cent in 2019-2021, according to the second edition of the National Multidimensional Poverty Index (MPI).
Also read: NITI Aayog meet: Modi for devising common vision to make India developed nation by 2047
Fastest decline in rural areas

While rural areas witnessed the fastest decline in poverty from 32.59 per cent to 19.28 per cent, urban areas saw a reduction in poverty from 8.65 per cent to 5.27 per cent. "A record 13.5 crore people moved out of multidimensional poverty between 2015-16 and 2019-21," said the report, 'National Multidimensional Poverty Index: A Progress Review 2023', released by Suman Bery, Vice-Chairman, NITI Aayog.
The National MPI measures simultaneous deprivations across three equally weighted dimensions of health, education, and standard of living that are represented by 12 SDG-aligned indicators. These include nutrition, child and adolescent mortality, maternal health, years of schooling, school attendance, cooking fuel, sanitation, drinking water, electricity, housing, assets, and bank accounts.
#NITIAayog released "National #MultidimensionalPovertyIndex: A Progress Review 2023" based on NFHS-5. The report states India's headcount ratio of multidimensional poverty has ⬇️ from 24.85% in 2015-16 to 14.96% in 2019-21.#MPI # PovertyReduction pic.twitter.com/8IoD8wppg1

— NITI Aayog (@NITIAayog) July 17, 2023
Marked improvement is witnessed across all the 12 indicators, NITI Aayog said. The report follows Alkire-Foster methodology developed by its technical partners — the Oxford Poverty and Human Development Initiative (OPHI) and United Nations Development Programme (UNDP).
According to the latest update of the global MPI released by UNDP and OPHI at the University of Oxford, a total of 415 million people moved out of poverty in India within just 15 years from 2005/2006 to 2019/2021.
Credit to govt's 'dedicated focus'

The NITI report attributes the decline in poverty to the government's dedicated focus on improving access to sanitation, nutrition, cooking fuel, financial inclusion, drinking water, and electricity. All 12 parameters of the MPI have shown marked improvements.
The report states that the fastest reduction in the proportion of multidimensional poor was observed in Uttar Pradesh, Bihar, Madhya Pradesh, Odisha, and Rajasthan. Between 2015-16 and 2019-21, the MPI value nearly halved from 0.117 to 0.066 and the intensity of poverty reduced from 47 per cent to 44 per cent.
India is on the path of achieving the SDG Target 1.2 (of reducing multidimensional poverty by at least half) much ahead of the stipulated timeline of 2030, said NITI Aayog CEO BVR Subrahmanyam. The report said schemes like Poshan Abhiyan and Anaemia Mukt Bharat have contributed to reduced deprivations in health.
Also read: Ex NITI Aayog CEO Amitabh Kant: Southern states crucial for India's growth
Initiatives such as Swachh Bharat Mission and Jal Jeevan Mission have improved sanitation across the country. The provision of subsidised cooking fuel through Pradhan Mantri Ujjwala Yojana (PMUY) has positively transformed lives, with a 14.6 percentage points improvement in cooking fuel deprivations.
It further said initiatives like Saubhagya, Pradhan Mantri Awas Yojana (PMAY), Pradhan Mantri Jan Dhan Yojana (PMJDY), and Samagra Shiksha have also played a major role in significantly reducing multidimensional poverty in the country.
Based on the latest National Family Heath Survey [NFHS-5 (2019-21)], this second edition of the National MPI represents India's progress in reducing multidimensional poverty between the two surveys, NFHS-4 (2015-16) and NFHS-5 (2019-21). The report builds on the baseline report of India's National MPI launched in November 2021.
(With agency inputs)