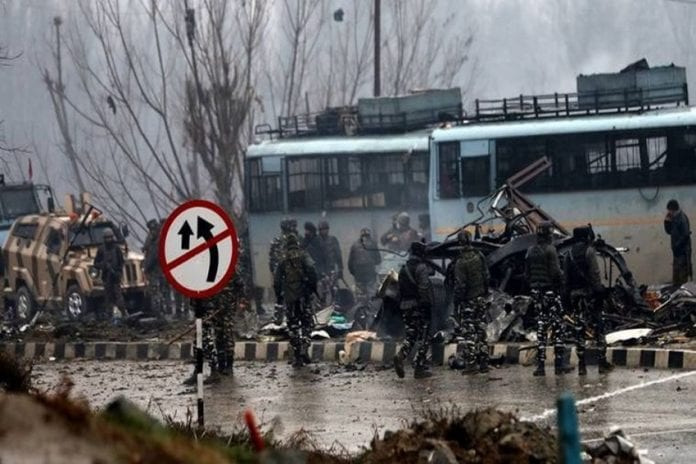 The National Investigation Agency (NIA) on Tuesday (March 3) arrested a man and his daughter in connection with last year's terror attack in Pulwama, in which 40 CRPF personnel were killed, officials said.
The duo, identified as Peer Tariq and his daughter Insha, were flown to Jammu to be kept in custody, officials said.
The officials did not reveal the charges on which the duo was arrested. However, there are speculations that the two of them allegedly harboured Adil Ahmed Dar, Shakir Bashir Magrey, and other Jaish-e-Mohammed (JeM) militants responsible for the attack.
Adil Ahmed Dar, a suicide bomber who was a member of terror group JeM, had killed 40 people by ramming his vehicle into the convoy.
The arrest of the duo comes after a major development in the investigation of the Pulwama attack, with the arrest of Shakir Bashir Magrey, one of the militants who played a crucial role in the attack.
Shakir had driven the Maruti Eeco vehicle with Adil in the passenger seat, to a place just 500 metres ahead of the attack site, on February 14, 2019.
According to The Times of India, an NIA officer said that the initial interrogation of Magrey confirmed that the latter had accompanied Adil on the day of the attack. The officer recounted the episode and said, "Since Adil was a shaky driver, Magrey took the wheel of the explosives-laden Maruti Eeco when they drove to the collision site."
He had also fitted the Improvised Explosive Device (IED) in the vehicle.
Magrey had allowed Adil Dar and another Pakistani militant named Mohammed Umar Farooq to stay at his house from the end of 2018 till the attack in February 2019 and helped prepare the IED.
Related news | Man who drove Pulwama suicide bomber to collision site arrested
Since his shop was located close to the attack site, he was asked by Farooq to closely observe the movement of CRPF officers and their convoys on the Jammu-Srinagar highway throughout January.
Magrey is the first accused to be arrested (captured alive) in the terror attack case. Adil died in the suicide attack, and five others who were accused of involvement in the attack were killed in separate operations by security forces between March 11, 2019 and January 25, 2020.
The NIA took over the case to probe the conspiracy behind the February 14, 2019 incident.
The NIA also found that last video of Adil, which was released by the Jaish-e-Mohammed from Pakistan after the terror attack, was filmed at their residence at Hadkipora in Pulwama of south Kashmir.