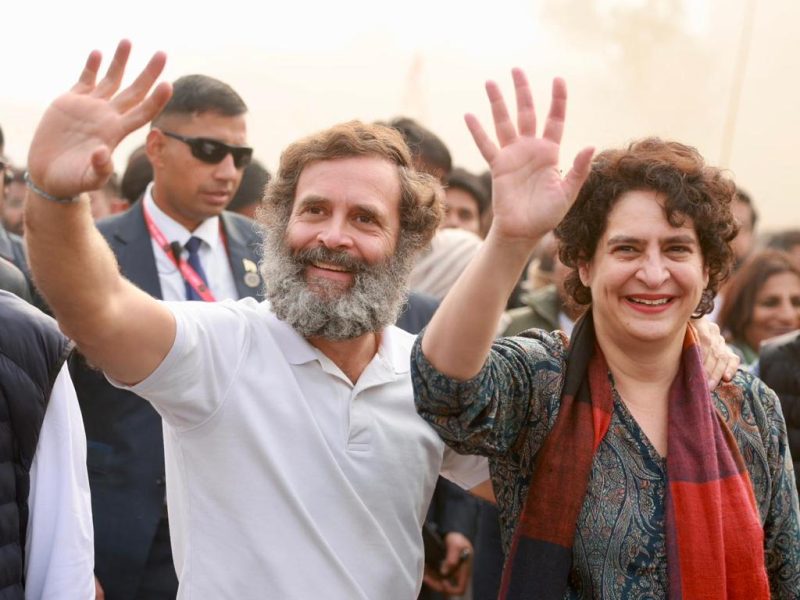 Following his conviction and subsequent disqualification as an MP from Lok Sabha, Congress leader Rahul Gandhi has tweaked his Twitter and Instagram bio to "Dis'Qualified MP." Late on Sunday (March 26), he posted a video on his Instagram handle to highlight the strength and heritage of the Gandhi family.
With clips from father Rajiv Gandhi's funeral procession and sister Priyanka Gandhi Vadra's Sunday speech at the Sankalp Satyagraha at Rajghat, the video is captioned: "Satya, saahas aur balidaan — ye humari virasat hai, aur yahi hamari taakat bhi" (Truth, courage and sacrifice — this is our heritage, and this is also our strength).
View this post on Instagram
Priyanka's speech
In her fiery speech on Sunday, Priyanka lashed out at Prime Minister Narendra Modi and the BJP. In the video, she can be heard recalling moments from Rajiv Gandhi's funeral procession, when Rahul insisted on walking behind the army truck carrying Rajiv's mortal remains wrapped in the Tricolour against mother Sonia Gandhi's wishes.
Also read: Rahul disqualification: 10 things Priyanka Gandhi said during Congress satyagraha
Lakhs of people had attended the nearly 10-mile procession. "It happened 32 years ago… After a while, Rahul insisted on walking with the procession. He walked in the scorching sun with my father's body wrapped in the Tricolour. You (Modi) insulted my martyred father. And now, you are calling a martyr's son a 'traitor'," Priyanka said.
"The Prime Minister asks in Parliament why this family never uses the Nehru surname. You insult the tradition of Kashmiri Pandits. Such people are not sent to jail; they are not disqualified from Parliament. Nor are they stopped from contesting elections for eight years. My family's blood has nurtured democracy in this country," the Congress general secretary said.
Congress continues Satyagraha
The video posted 15 hours ago has garnered 2,59,680 likes and 4,345 comments, with many coming out in support of Rahul Gandhi. "Whatever may be the politics but we all have freedom of speech and no one deserves this which Rahul Gandhi is going through now. End of democracy and freedom of speech," wrote an user.
Also read: Disqualification aftermath: Rahul Gandhi's second coming
Congress's Satyagraha entered its second day on Monday (March 27), with protests being held at the district headquarters in different states.
The BJP on Sunday slammed the Congress, saying its Sankalp Satyagraha protest was effectively against a court verdict and that Rahul's remark had insulted the "entire backward community."
(With agency inputs)