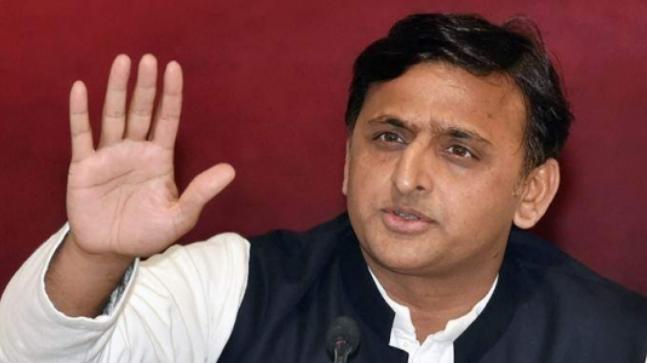 In a remark apparently meant for the Congress, Samajwadi Party chief Akhilesh Yadav on Sunday said the national parties should support regional parties fighting the BJP in their states.
Replying to a query on Congress leader Rahul Gandhi's disqualification from the Lok Sabha, the former UP chief minister said he wanted to congratulate the party for observing satyagraha. When asked if his party would support the Congress movement, the Leader of Opposition (LoP) in UP said the question is not whether the Samajwadi Party is sympathetic towards Rahul, but whether the country's democracy and Constitution will survive or not.
"We cannot sympathise with any party," he said while emphasising that the national parties should cooperate and help the parties that are fighting against the BJP at the state level.
Also read: Mamata to meet Naveen Patnaik after Akhilesh; third front buzz intensifies
'Centre targeting regional forces'

Yadav alleged that the parties at the Centre have harmed the regional parties. "Today CBI, ED and Income Tax are targeting regional parties," he said. "Be it Netaji (Mulayam Singh Yadav), Lalu Prasad Yadav, Jayalalithaa, Stalin, KCR or Delhi's Aam Aadmi Party, all have been targeted by the parties at the Centre," he said.
Talking about alliance, Yadav said, "It is not our job to form an alliance. Our job is to cooperate with the alliance." On communalism, Yadav said, "The question here is not who is communal. If the educated class of our country becomes communal and starts believing the lies, then there can be no bigger threat to society and democracy than that. Today we have reached that situation."
He said the Samajwadi Party will have a cadre at every single booth of all the Lok Sabha constituencies in the state by June 5 and will strongly fight the BJP in the 2024 general elections.
Also read: New front for 2024 elections, says Akhilesh Yadav after meeting Mamata in Kolkata
Accuses Yogi of making false claims

Yadav claimed that the BJP-led Uttar Pradesh government has made false claims and presented wrong development figures. He said in the budget speech, the state's growth rate was pegged at 16.9 per cent and claimed that the Yogi Adityanath-led government paid Rs 200 crore to Deloitte "for converting this lie into truth".
He said, "Chief Minister Yogi Adityanath while celebrating the six years of his government on Saturday said the per capita income of the state has doubled. Don't know which economist is sitting here who tells this."
(With Agency inputs)