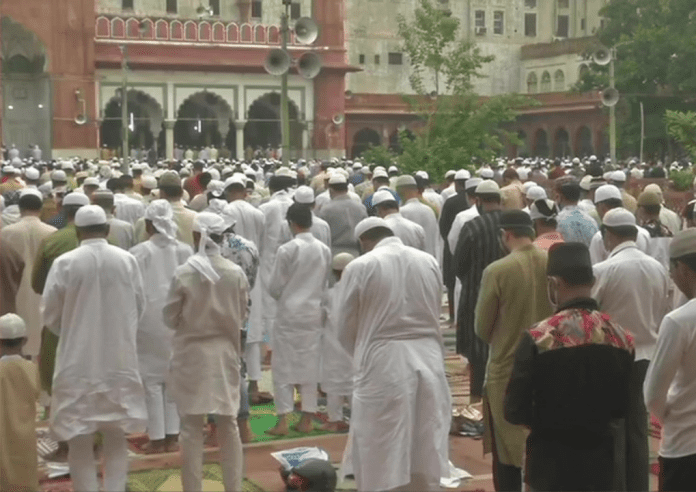 As most parts of the country still remain under lockdown, muslims across the nation embraced Eid-Ul-Adha, an important festival of their religion in muted, subtle celebrations across on Saturday (Aug 1).
The festival was celebrated in Delhi where lockdown restrictions have been eased. People offered namaz (prayers) in mosques and performed the ritual of animal sacrifice by strictly adhering to precautions amid the coronavirus pandemic.
Amid the pandemic outbreak, devotees maintained social distancing and wore face covers as they visited mosques in the city to offer prayers. As opposed to the Eid tradition, avoided hugging and shaking hands with each other after the prayers to prevent the spread of the infection. Jama Masjid and Fatehpuri Masjid in Old Delhi attracted sizeable number of people for the early morning namaz.
Delhi: Devotees offer prayers at Fatehpuri mosque on the occasion of #EidAlAdha pic.twitter.com/NOURW8Mv3e

— ANI (@ANI) August 1, 2020
Prime Minister Narendra Modi and Home Minister Amit Shah extended their greetings on the occasion. PM Modi hoped that the festival inspires us to create a "just, harmonious and an inclusive" society.
Eid Mubarak!

Greetings on Eid al-Adha. May this day inspire us to create a just, harmonious and inclusive society. May the spirit of brotherhood and compassion be furthered.

— Narendra Modi (@narendramodi) August 1, 2020
Eid al-Adha celebrations in Kashmir was a low-key affair as most of the faithful marked the festival of sacrifice by offering prayers in small groups and observing social distancing in view of the COVID-19 pandemic. No Eid prayers were offered in major mosques and shrines of Kashmir as police enforced the strict restrictions in most parts of the valley, including Srinagar.
Union Minister of Minority Affair Muktar Abbas Naqhvi was seen offering prayers at his residence. "The world is facing the corona crisis but it has not dampened the spirits of people. People are praying today keeping their safety in mind. There is no lack of passion in offering prayers," Naqvi said, ANI reported.
Delhi: Mukhtar Abbas Naqvi, Union Minister of Minority Affairs offers prayer at his residence on #EidAlAdha pic.twitter.com/F7vZNxcn2I

— ANI (@ANI) August 1, 2020
The second most important festival Eid, was observed in muted celebrations as the COVID-19 induced lockdown has led to religious places including temples and mosques to remain shut in various places across the country. Devotees were not able to gather in mosques to offer prayers as under Unlock 3, religious functions and other large congregations continue to be prohibited.