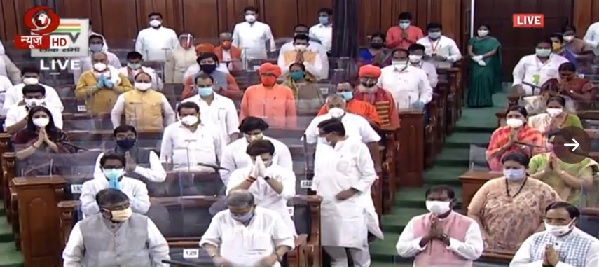 The 18-day Parliament session began on Monday (September 14) amid unprecedented measures against Covid-19, including staggered sittings of the two Houses and MPs maintaining social distancing.
The government has introduced a mobile app for registering MPs' attendance and the seats are separated with poly-carbon sheets in the House.
Ahead of the session, all members were requested to get tested for COVID-19 and one of them tested positive. "Requesting all those who have come in close contact with me in the last few days to monitor their health and get tested in case of any symptoms," tweeted the BJP's Sukanta Majumdar.
Advertisement
Reports said 200 out of 785 MPs above 65 years of age, at least seven Union ministers and two dozen lawmakers are recovering from COVID-19.
The discussions and debates are likely to centre around issues such as a battered economy with a record dip in GDP figures and an unprecedented contraction, Chinese incursions in eastern Ladakh, the alarming pandemic situation in the country, besides a listed agenda for 18 Bills.
An all-party meeting, a norm before the Parliament sessions begin, was not held this time because of the pandemic situation, the government said on Sunday. There will be four-hour sittings and Parliament will function seven days a week. Only written questions and answers will be allowed, which has hugely upset the opposition. There would be no question hour.
"This government continues to mock parliament. They have cancelled Question Hour, slashed Zero Hour by half, want to rush bills without any scrutiny and create an ordinance raj like never seen before in the last 70 years. The world and our glorious nation must know, this is very dangerous for democracy," Trinamool's Derek O'Brien tweeted.
There will be 11 bills replacing a slew of ordinances issued since March, when parliament was adjourned indefinitely in view of the coronavirus pandemic.
The bills that will replace ordinances include the Farmers' Produce Trade and Commerce (Promotion and Facilitation) Bill, one of regulation of support prices, one on Essential Commodities (Amendment) Bill, the new rule on taxation and the salaries and allowances of MPs and ministers.
Congress chief Sonia Gandhi will not attend the first part of parliament's monsoon session as she has left for her annual check-up abroad. Sonia will remain out of the country for at least two weeks. Congress MP Rahul Gandhi, who is accompanying her, is likely to return after a few days.