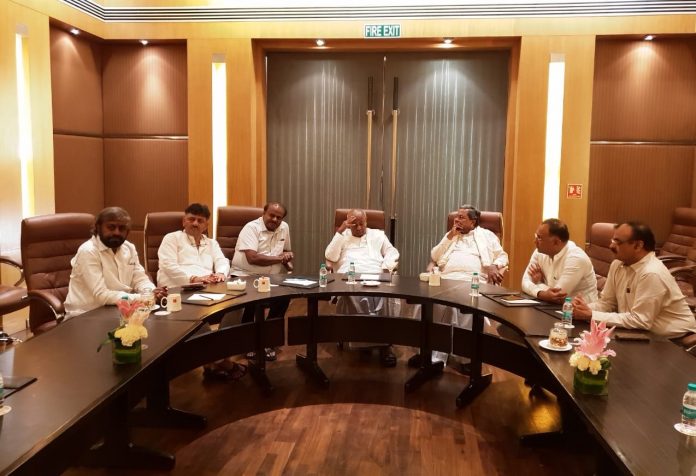 Former Karnataka CM allegedly bribes BJP top brass
A report by Caravan magazine, citing a diary seized by Income Tax officials during a raid of BS Yeddyurappa's house, claims that the former Karnataka chief minister paid ₹1,800 crore to the BJP top brass. While the Congress has sought for an investigation by the Lokpal into the pay-offs, Yeddyurappa has rubbished the report, saying that it is false.
BJP's strategy lacks Muslim representation
As expected, the BJP's first list of 184 candidates for the Lok Sabha elections doesn't include a single Muslim candidate in mainland India, even though it covers states like Uttar Pradesh, Rajasthan and Maharashtra, where the percentage of minorities is significant. This shows that the Modi-Shah era plans to pursue its strategy of consolidating its core Hindutva constituencies.
JD(S)-Congress union rift grows wider
All is not well with the ruling coalition partners — Janata Dal (Secular) and Congress — in Karnataka. While the top brass of both parties in the state are trying to play nice to keep BJP at bay, there's a different story to be told at the grassroots level. Party workers on both sides are unhappy with the seat sharing agreement for the upcoming Lok Sabha elections and are revolting.
Sam Pitroda stirs up a storm
The controversy surrounding Indian Overseas Congress Chief Sam Pitroda's comments on the Balakot airstrike reached a peak on March 22. Prime Minister Narendra Modi took to Twitter to attack the policymaker and the Congress for "kick-starting Pakistan National Day celebrations". Pitroda, meanwhile, stuck to his statement, which asked the government for more data and facts on the airstrikes. He said he was "baffled" by the stir-up as it is every citizen's right to ask questions.
Dalit youth tied to tree, beaten in Gujarat
A 17-year-old dalit youth was allegedly tied to a tree and beaten by at least two men in Patan district, Gujarat, on March 18. Two days later, his mother discovered the wounds and the family filed a complaint. According to the FIR, the student was about to appear for his XII board examinations when he was forcefully taken to a secluded farm and thrashed.
BJP relying on caste and religious polarisation
The BJP candidates list for Tamil Nadu reveals that the party relies on caste and religious polarisation to improve its electoral prospects in the state. This goes back nearly four decades, when the party made a big issue of the Vivekananda Rock Memorial. The underlying strategy was to polarise the voters of Kanyakumari and its adjoining districts on religious lines. Now, similar strategies are being used by the five candidates.
Congress manifesto to focus on MSMEs
The Congress election manifesto, which, until recently, focussed on farmers' issues, has now changed tracks. After a lengthy process, which included about 174 consultation meetings — 121 public ones and 53 expert consultations in person — the party has decided to focus heavily on micro, small and medium scale enterprises.