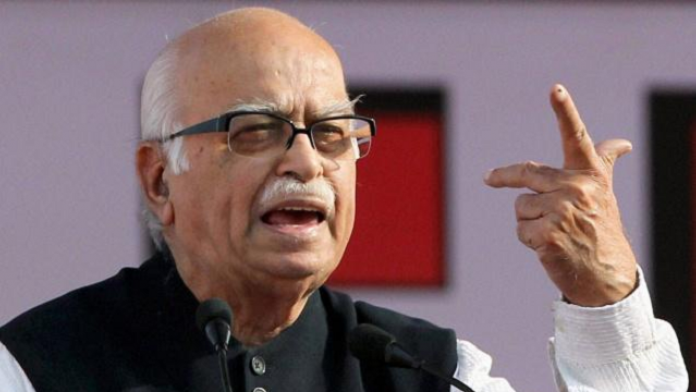 Tamil Nadu children present poll manifesto
In a first of its kind initiative, children from Tamil Nadu have presented their manifesto for the upcoming parliamentary elections.
The manifesto highlights their issues and concerns about their rights involving their survival, protection, participation and development.
The children will also be presenting the same set of manifesto to regional and national parties to get them addressed by the parties in their respective manifestos.
Mammootty's plays a part in polls in Andhra
He might be a superstar in Malayalam film industry. However, he has a lot to offer to Andhra as well, with his recently released biopic Yatra on the late Andhra Chief Minister YSR Rajasekhar Reddy.
YSR's son YS Jagan Mohan Reddy, who is heading the YSR Congress Party, has been using it for his campaigning in the state. On the other hand, transport arrangements are being made to make villagers watch the film, on the big screen in a bid to boost the party's chances.
Advani keeps everyone guessing
BJP patriarch LK Advani is yet to take a call on contesting in the upcoming Lok Sabha election. The 91-year-old, who has contested successfully from Gandhinagar six times in the past.
Advani has remained in the background since 2014, after the rise in prominence of the Indian Prime Minister Narendra Modi in the party.
On March 20, his personal secretary Deepak Chopra said that Advani was yet to take a call on contesting in the polls. He also said that neither has Advani approached the party nor has the party contacted him.
Nirav Modi arrested in London
Scotland Yard announced that it has arrested businessman Nirav Modi, wanted for his role in the Rs 13,500-crore Punjab National Bank scam case, days after a London court issued an arrest warrant against him. This comes as a major boost to India's efforts to bringing him back to India.
He was believed to be living in a plush apartment in Centre Point in the West End. The case will follow a similar pattern to that of liquor baron Vijay Mallya, who remains on bail since his arrest on an extradition warrant in April 2017.
Chidambaram gets back at Jaitley
If a person disagreeing with the government is a compulsive contrarian, can someone who always agrees with it be called his master's voice, senior Congress leader P Chidambaram on March 20 hit back at Finance Minister Arun Jaitley.
The finance minister has slammed 108 economists and social scientists as "compulsive contrarians" for raising concern over political interference to influence statistical data.
For the first time in the last two decades of its regime, the Biju Janata Dal is facing a tough challenge in its turf. In the upcoming Lok Sabha elections. The BJD is facing challenge from both the BJP and Congress. The discontentment within apart from the formidable opponents is set to make the upcoming polls an acid test for the party's supremacy.
Kejriwal attacks Modi with Chowkidar jibe
Taking a dig at BJP's 'Main Bhi Chowkidar' campaign, AAP chief Arvind Kejriwal said on March 20 that if people want their children to become watchmen, they should vote for Prime Minister Narendra Modi.
And if they want good education, they should vote for Aam Aadmi Party, he said. Kejriwal, in a tweet in Hindi, said Modi wants the whole country to try to become 'chowkidar' (watchman).
Sawant wins Goa floor test
A day after Pramod Sawant was sworn in as the Chief Minister, the Bharatiya Janata Party-led coalition in Goa on March 20 won the floor test in the legislative assembly. While the ruling coalition got 20 votes, the opposition Congress and Nationalist Congress Party got 15. Deputy speaker Michael Lobo conducted the floor test. In the 40-member Goa assembly, the BJP-led coalition has 21 members, including Lobo. Sawant succeeds Manohar Parrikar who died on March 17.