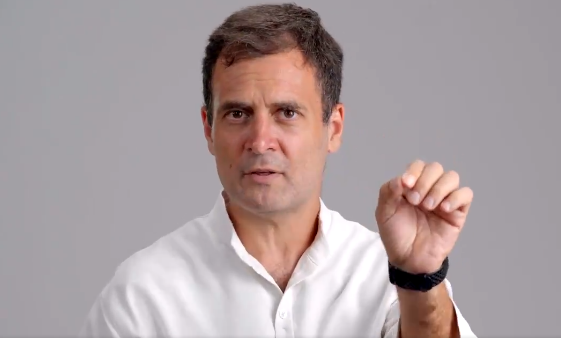 In a fresh salvo, Congress leader Rahul Gandhi on Wednesday (September 9) accused the Centre and Prime Minister Narendra Modi of crippling the unorganised sector of the country by imposing a sudden lockdown in the wake of the COVID-19 outbreak.
In a new video, Rahul citing the economic fallout of the lockdown through figures and government data, suggested the government to introduce schemes like Nyay, a social welfare scheme proposed by the Congress, to help in the revival of the sector.
"The sudden lockdown proved to be the death knell for the unorganised sector. It was promised to end Corona in 21 days, but what ended was crores of jobs and small-scale industries," Rahul tweeted in the caption of the video.
"What the government did in the name of corona, was the third attack on the unorganised sector. The poor, employed in small and medium businesses, earn and feed on a daily basis. You (the Centre) attacked them, when you announced a lockdown without any notice. The prime minister said the fight (with coronavirus) will be over in 21 days, but the backbone of the unorganised sector was broken in those 21 days," he said in the video.
अचानक किया गया लॉकडाउन असंगठित वर्ग के लिए मृत्युदंड जैसा साबित हुआ।

वादा था 21 दिन में कोरोना ख़त्म करने का, लेकिन ख़त्म किए करोड़ों रोज़गार और छोटे उद्योग।

मोदी जी का जनविरोधी 'डिज़ास्टर प्लान' जानने के लिए ये वीडियो देखें। pic.twitter.com/VWJQ3xAqmG

— Rahul Gandhi (@RahulGandhi) September 9, 2020
The video is the last of a four-part series in which Rahul analyzed the adverse effects of demonetisation, GST and the COVID-lockdown on the economy.
"The Congress has urged the government many a time to help the poor through schemes like Nyay…We suggested that for small and medium businesses, you should prepare a package…Instead, the government waived off taxes worth ₹1.45 lakh crore of the richest 15 to 20 people," he said.
"This lockdown was an attack on the poor of India, on the future of youth, on farmers and small businesses. We have to understand this and stand against this attack," he added.
Earlier in the day, the Congress leader listed out the five "gross mismanagement of COVID" by the Modi government. It included India becoming the second-most COVID-affected nation and accounting for almost 40 per cent of the total cases worldwide.
"Due to Modi Govt's gross mismanagement of Covid: 1 India's total cases world's 2nd highest. 2. India's weekend tally higher than US & Brazil put together. 3. On Sunday, India's share was 40% of total cases worldwide. 4. No flattening of curve. Stay safe everyone," he tweeted.