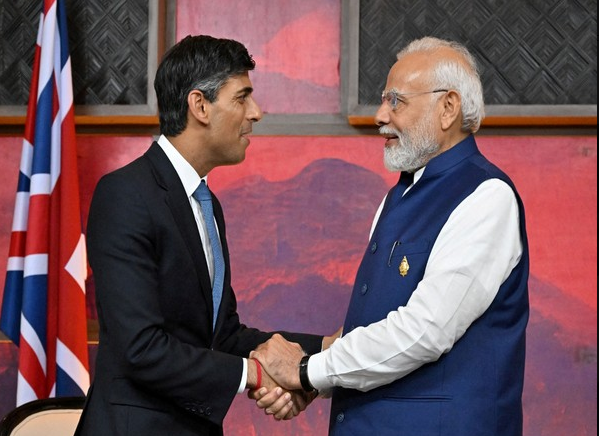 Prime Minister Narendra Modi on Thursday (April 14) raised the issue of security of Indian diplomatic establishments in the United Kingdom in a telephonic conversation with his British counterpart Rishi Sunak and called for strong action against anti-India elements, a statement said.
During the conversation, the two leaders also took stock of the progress of a number of bilateral issues which are part of the India-UK Roadmap 2023 while agreeing on the need for an early conclusion of a Free Trade Agreement between the two countries.
Modi also sought progress on the return of economic offenders wanted in India.
India is pursuing the extradition of beleaguered businessman Vijay Mallya and fugitive diamond merchant Nirav Modi from the UK.
Mallya, who fled to the UK in 2016, is wanted in India over a default of ₹9,000 crore that was loaned to Kingfisher Airlines by several banks. Nirav Modi is facing charges in the estimated USD 2 billion Punjab National Bank loan scam case.
About the vandalism at the Indian High Commission last month, Sunak conveyed to Modi that the UK considers the attack "totally unacceptable" and assured the security of the Indian Mission and its personnel, the statement said.
Last month, the tricolour flying atop the Indian High Commission in London was grabbed at by a group of protesters waving separatist Khalistani flags and chanting pro-Khalistani slogans, leading to an arrest related to the violent disorder.
During the talks, Sunak reiterated to Modi the UK's full support for India's ongoing G20 presidency.
Modi also conveyed his greetings to Sunak, who is of Indian origin, and the Indian community in the UK on the eve of Baisakhi.
Modi invited Sunak for the G20 Summit to be held in September 2023. The British leader appreciated the progress made under India's Presidency of the G20 and reiterated the UKs full support to India's initiatives and their success, the release said.
(With inputs from agencies)