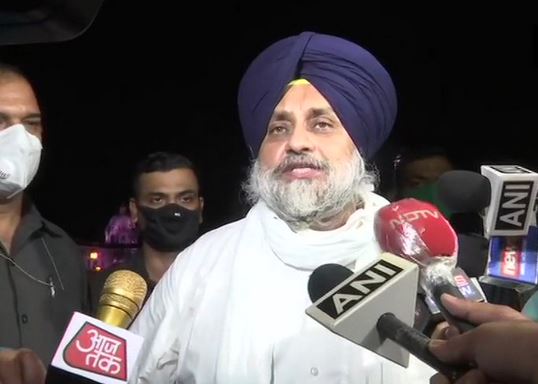 Shiromani Akali Dal chief Sukhbir Badal, who parted ways with his oldest ally BJP last year over the new farm laws, thinks that Prime Minister Narendra Modi has "fixed views" and a country as diverse as India needs "a PM who can handle situation without forcing his way through."
In an Interview to The Indian Express, Sukhbir said, "When we were in the government, we told them (Centre) it's a mass movement and people won't go back as you are affecting their livelihood. Farmers are convinced that they will lose their land and livelihood."
The PM has repeatedly said there was no such threat and that the new laws don't lay down bargaining of the land. The laws clearly stipulate that whatever agreement a farmer has will be on the agricultural produce. But the farmers remain unconvinced and say the pressure of market forces would force the farmer in a labyrinth of legal issues and the subsequent wastage of time and money.
Also read: India condemns UK lawmakers' debate on farmers' protest as 'one-sided'
Sukhbir said, apart from greeting his father, former CM Parkash Singh Badal, last December, the BJP or the PM has not reached out to him since the parting of ways.
Terming the Toolkit case a diversionary tactic, Sukhbir said there was no foreign hand behind the farmers' protest, which is now more than three months old.
"The present government tends to browbeat any party or individual who doesn't agree with them. All those who agree with them are nationalists, those who don't are anti-national. But who needs a certificate of patriotism from this government? Also, if you call farmers Khalistanis, why are you talking to them?" asked Sukhbir.
Also read: Farmers to go to poll-bound states with agri laws protest, expose BJP's 'reality'
On the need for reforms in the agricultural sector, Sukhbir said it needed "practical" solutions, not the "bookish" ones. "Do these (new) laws guarantee diversification? Do they guarantee employment? The best mandi system, the best purchase system in the country is in Punjab, why don't they replicate the Punjab system?" said the SAD chief.
"Even today, private players can come to Punjab and purchase crops, but at least they are under a monitor. There is a government hand protecting the farmers. Why doesn't the Modi government give army and police to private players?" asked Sukhbir.
He said the government has made laws that people do not want. "Modi will emerge much stronger if he withdraws these laws. Every PM does not do everything right. A person who admits his weakness is a bigger person," he said.