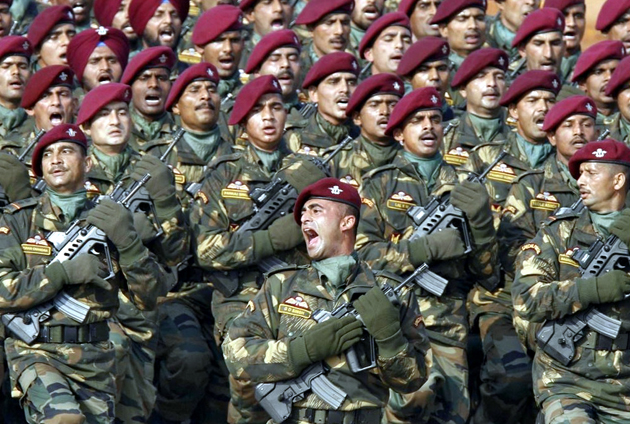 It was a nationalism pitch and a call to remember the jawans as Prime Minister Narendra Modi and Defence Minister Rajnath Singh lauded the services of the defence personnel as the nation is celebrating Dussehra today (October 25).
In his monthly radio address 'Mann Ki Baat,' PM Modi urged the people of the country to light a 'diya' for the soldiers protecting the nation's borders.
"Lots of festivals like Eid, Diwali will take place at this time of the year. We must remember soldiers protecting our borders while celebrating festivals, light a 'diya' for them in your homes," Modi said.
Related news: India returns Chinese soldier who had strayed across LAC
PM Modi also urged people to buy local products. "Dussehra is also a festival of victory of patience over crises. Today, all of you are living with great restraint, celebrating festivals with modesty. Therefore, in the COVID-19 battle, we are fighting, victory is certain. This time, when you go shopping make sure to remember your resolve of 'vocal for local'. When purchasing goods from market give priority to local products," he said.
At Sukna War Memorial in West Bengal's Darjeeling, Rajnath performed "Shastra Puja" (worship of weapons), on Dussehra, and said India wants peace with China.
"India's brave soldiers have sacrificed their lives (for India's safety). We want that the Indo-China border tension should end and peace should be preserved. But unpleasant incidents keep happening. However, I am confident that our soldiers will not let anyone take even an inch of our land… History will remember the courage of Indian soldiers," Rajnath said.
Related News: Ladakh clashes have left India-China relations disturbed – Jaishankar
Rajnath was scheduled to perform the puja at Sherathang, a high-altitude border area near the Line of Actual Control (LAC) in Sikkim, but he could not go there due to inclement weather, officials said, news agency PTI reported.
The defence minister arrived at the Sukna-based headquarters of the 33 Corps on Saturday.
In an address to a group of soldiers at the base on Saturday evening, Singh said India always tried to maintain good relations with its neighbours, but situations arose from time to time when its armed forces had to make supreme sacrifices to protect the sovereignty and territorial integrity of the country.
The defence minister also reviewed the combat preparedness of the Army during a high-level meeting at the military base.
The Army has significantly bolstered deployment of troops and weaponry along the nearly 3,500-km-long LAC, including in the Sikkim and Arunachal Pradesh sectors.
(With inputs from agencies)