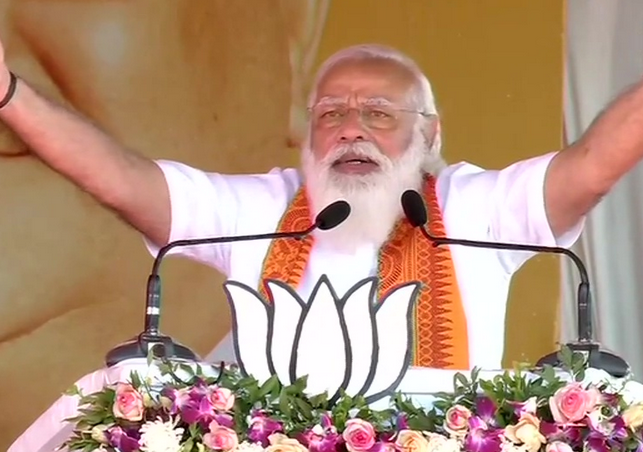 Prime Minister Narendra Modi said Puducherry was a fertile ground for industries and tourism to thrive and simultaneously churn out employment opportunities, during his visit to the Union Territory on Thursday (February 25).
Modi flagged off a slew of projects including laying the foundation stone of Puducherry Port Development under the Sagarmala scheme, another for a 400-m synthetic athletic track at the Sports Complex in Puducherry, and various development projects at the Jawaharlal Institute of Postgraduate Medical Education and Research (JIPMER) among others.
"One sector that will play a key role in the coming years is healthcare. Nations that invest in healthcare will shine. In line with our objective to provide quality health care to all, I am inaugurating the blood centre in JIPMER," Modi said at JIPMER.
The prime minister's visit couldn't have been timelier as it comes days after the fall of the Congress-led Narayansamy government in poll-bound Puducherry.
Hinting that a BJP government would treat the Union Territory better, Modi said, "In 2016, Puducherry didn't get a people's government. They got a government that was busy serving the Congress high command in Delhi, their priorities were different. Your former chief minister (Narayansamy) was an expert in lifting the slippers of his top party leaders."
"What I am seeing here today — the energy and enthusiasm — is wonderful. It shows how the direction of the wind is changing in Puducherry," he said addressing a massive gathering.