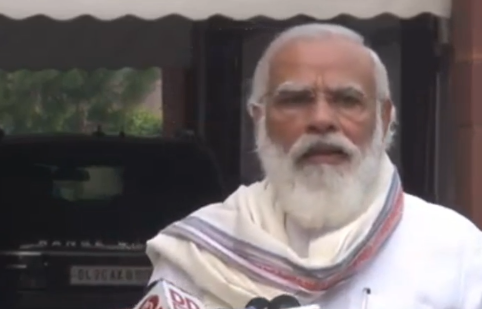 Wednesday (October 7) marked Prime Minister Narendra Modi's 20th year as the head of an elected government. 
He has been the country's prime minister since May 2014. Before becoming the prime minister, he was Gujarat's longest-serving chief minister — from October 7, 2001, till he took oath as the PM. 
Related News: 'Mor' than meets the eye: The making of the Modi iconography

This is his second term as the nation's leader after having occupied the public office in Gujarat for three consecutive terms. He is the first non-Congress prime minister to have returned to power with complete majority. 
Modi's political career started in 1965 after he joined the Jan Sangh. He was associated with the Rashtriya Swayam Sevak Sangh from a very early age and joined the organisation in 1972. He became a member of the BJP in 1987. He held various posts in the party, including that of the general secretary. 
When former Gujarat chief minister Keshubhai Patel's health started failing in 2001 and his stock fell due to the handling of the situation after the Bhuj earthquake, Atal Bihari Vajpayee, who was then the prime minister, suggested Narendra Modi's name as his replacement. He was made the chief minister on October 7, 2001. He became an elected member of the Legislative Assembly in February 2002.
The Assembly was dissolved in July 2002 in the aftermath of the Godhra riots. Modi however returned as chief minister after the BJP won the elections held in December 2002.
Related News: Jet-set PM: Modi visited 58 nations since 2015, cost put at ₹517.82 crore

The party, led by Modi, returned to power after the 2007 Assembly elections under Modi's leadership. It won the majority in the 2012 elections again under Modi's leadership. Under his reign, Gujarat came to be known as a business-friendly state. 
Before the 2014 parliamentary elections, he was projected as the NDA's prime ministerial candidate. The alliance was voted to power with 336 seats, with the BJP winning 282. Modi was sworn in as the prime minister on May 26, 2014. He led the NDA again to victory in the 2019 elections, with the BJP bettering its previous tally by winning 303 seats.