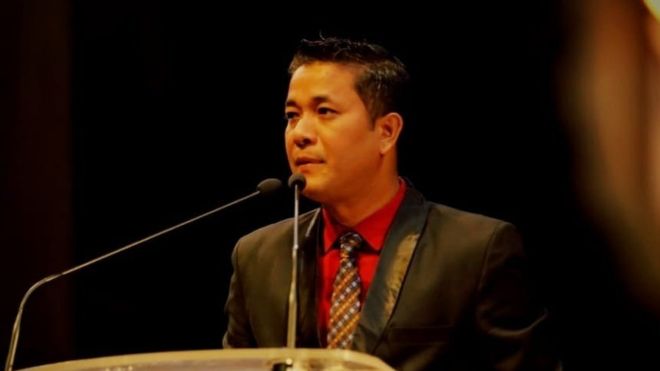 Last November, a series of Facebook posts landed Manipur journalist Kishorechandra Wangkhem in jail for criticising Chief Minister N Biren Singh. The 39-year-old was arrested under the National Security Act (NSA) and was lodged in the Sajiwa Central Jail in Imphal East. Wangkhem had criticised the chief minister and called him a "puppet" of PM Modi for organising a function in Imphal to mark the birth anniversary of Rani Lakshmibai of Jhansi, who he said had "nothing to do with Manipur".
On several occasions during the video, Wangkhem had used expletives as well.
While his arrest drew much criticism from various rights organisations, the BJP government in Manipur also faced severe backlash for curbing freedom of speech.
On April 8, the Manipur High Court quashed the charges against him and ordered his release. Wangkhem walked out of jail on April 10, a day ahead of the first phase of Lok Sabha elections in which Manipur also voted for one of its two seats.
After his release, Wangkhem told The Federal in an interview that the entire experience has only made him stronger in his resolve to fight for the cause of the indigenous people of the state. Here are the excerpts of the interview.
Can you tell us the events that led to your arrest in November last year?
I had been a very strong critic of the BJP government even before it came to power in Manipur in 2017. The reason is that I belong to a minority group called Sanamahism. This is the indigenous faith that most Meiteis followed before the advent of Hinduism in Manipur in the 18th century when a Bengali missionary came here and converted many Sanamahism followers into Hindus.
My apprehension against the BJP is that their ideology of Hindutva is a threat because what they want is one religion, one nation, one language and one culture. I believe that in Manipur, a multi-ethnic state where we have different small communities living together, such an ideology poses a threat to the identity of the indigenous people. That was the fear I had.
So, you could see the BJP coming to power in Manipur?
Yes, I could sense that because in Manipur whichever party is ruling at the Centre, that party somehow rules the state too. And that is what exactly happened. As we know some organisations for long have been working for a larger cultural and religious assimilation process across the Northeast. So, after the BJP government came to power in the state, these processes intensified in Manipur too.
A lot of us felt that the chief minister, too, became a part of this process of distorting the historical facts of Manipur. If you remember, the chief minister during a visit to the Madhavpura fair in Gujarat last year said the Northeast had been a part of India since the Dwapar Yug and "Manipur was made a part of India by Lord Krishna in the mythical times".
On the contrary, the state was politically merged with India in 1949. A lot of Manipuris took strong exception to such distortion of Manipur's history. Such comments were clearly an attempt "to promote the Hindutva ideology" in a secular India.
He may had his political compulsions to appease the Centre, but we – the younger generation – feel he is misleading us.
You were angry with distortion of Manipur's history…
See, ever since the BJP came to power, some other Hindu cultural festivals that were popular in North India began to be celebrated in Manipur. One day, the BJP government organised a function in Imphal to mark the birth anniversary of Rani Lakshmibai of Jhansi, but she had nothing to do with Manipur.
I have nothing against Rani Lakshmibai or her role in India's freedom struggle. But she took up arms against the British in 1857. At that time, Manipur was a princely state. It was annexed by the British in 1891 during the Anglo-Manipur war. So, there is a need to teach our younger generation about our own unique history and Manipuri freedom fighters because even in school textbooks, we have been learning about Mahatma Gandhi, Bal Gangadhar Tilak, Jawaharlal Nehru, Lal Bahadur Shastri et al.
I'm not saying there is anything wrong in it, but in doing so the younger generation is forgetting about our Manipuri heroes. Because we never had chapters on our own Manipuri freedom fighters like Hijam Irabot, Bir Tikendrajit, Paona Brajabashi, Haipou Jadonang and Rani Gaidinliu.
The contribution of these heroes is forgotten. There has been a call to include the story of these heroes in the curriculum. This demand has been going on and it has been introduced in some lower classes.
My frustration, my anger was that if we go on accepting this, what about our culture, about our unique history?
Somehow, history is getting diluted and there's a tendency that we forget our own heroes, which again poses a threat to smaller communities. That is why I actually posted my outburst on Facebook.
But do you regret some of the things you said in the video?
Yes, I do realise and I do accept that I used some unparliamentary words which I should not have used.
In a way it is also because of those unparliamentary words that things went in that direction. Had I not used those words, this whole thing would perhaps have been different altogether.
So, you think the government wouldn't have slapped such strong charges against you if you had not used those unparliamentary words?
Exactly. That's what I feel because I was released. I was released on bail on November 26. However, they were not ready to accept that and to quash the FIR. It was such a bitter pill for them to swallow. The charges still remain. Except that the words were not seditious so bail could be granted. That was the judgment of the lower court. So, I was given bail. But the government or the police were not ready to accept that. They were not happy with me being free even though on bail. So, that's why they came the next day again and slapped the NSA.
Otherwise you know the picture, there was no ground [for arrest].
What was the reaction of the local media? I read somewhere that initially they supported you when you were arrested for the first time and you had promised not to say anything against the government in future, but despite that you again posted a video. When was the first time you were arrested?
I was arrested for defamation and had to spend three days in jail on August 10-13 because of a Facebook post during the prolonged Manipur University crisis over demands of Vice Chancellor Adya Prasad Pandey's removal for allegedly siphoning off funds among other irregularities.
During that time I was released because of the support that I got from the journalist friends in Manipur.
I was very thankful for the support. However, I was betrayed by them. I was told that I was being released on medical grounds and it was unconditional. I was released on August 13. On August 14, I talked to the president of All Manipur Working Journalists Union (AMWJU) and told him that I wanted to meet all the members and thank them and put forth my opinion in the case.
What had actually happened is I was released after the All Manipur Working Journalists Union members went to the chief minister and apologised before him on my behalf. To that extent, I was okay because I was not the one who said sorry.
But when I asked permission to meet the members (August 14), the AMWJU president kept me waiting and finally when he called he said let's go to CM's place. 'Not too many people just you, I and another person'. He said then 'you apologise to the CM and let's resolve the issue. The FIR will be withdrawn. Even the CM wants the same'.
I flatly rejected it because I thought that apologising for what I did was against my integrity, against my principle… because that arrest was arbitrary. I had not committed any crime.
Therefore, the journalist union was not happy with me. I was never ever produced before the standing committee or members to apologise or to put forth my side of the story. I mean, even if I had been there, probably I might have accepted it or said it, but I was not given any chance to speak before and now they're claiming that I had promised I would not repeat it. This is where the betrayal comes to picture.
Now, the other reason why I have been angry was there is this suppression of voices, suppression of the freedom of speech and expression all over the country. I am not the first one to be arrested in this regard. There were many who were being threatened or arrested for criticising the government. So I thought if we keep on allowing this, the matter would become worse. I thought it was a good time to let the government know that it cannot continue doing this. That's what actually led to the outburst on Facebook [in November].
So, what happened between November 27 and April 8?
What happened was the advisory board of the National Security Act, set up to examine allegations made by the state government against me, met on December 11 and conducted hearings on the matter and approved my detention under the Act on December 13.
Were you hopeful that the advisory board will absolve you of the charges?
Yes, we were because everyone was saying that there was no firm ground for my detention.
So that is when we filed a writ petition in the high court on December 22. The first hearing in High Court was scheduled on February 1, about 40 days later. The reason maybe, I assume, because there was a 20-day court vacation and Christmas and New Year break. So, I waited.
The second hearing was on February 22. Then on February 28 and March 4. The hearing, we thought, would be completed by March 4. On March 4, the judgment was reserved for a later date. I thought it will take two-three days or maximum seven days. But I had to wait for more than a month.
On March 18, I was diagnosed with high sugar level and my family again appealed if the judgment could come early since my health was deteriorating. Probably, that's when they realised that things shouldn't be delayed.
It was finally announced on April 8.
After you were arrested for the second time, what was the reaction of your media colleagues? Did anyone come forward to support your cause?
No, they didn't. Because they had already declared earlier that in future anybody does this sort of a thing, they wouldn't support that. Also, I and my family have never sought any support from them as well.
How would you describe your life inside the jail for more than four months? Was there any pressure from outside or any harassment inside?
No, inside the jail there was no harassment. The jail authorities were really good to me. However, may be because of rules, some facilities and opportunities were not given.
But outside, my family was under intense pressure. There was a cop in plain clothes always loitering around my house, a stalker following my wife when she would go to her office. So there was lot of trauma. My wife, whenever she came to meet me, she would talk about the same. She even said it in front of the media that she was being followed and getting blank calls.
The other concern was the neighbourhood. The change in the attitude of neighbours towards my family. They would not talk to my wife because of the fear that the government might also come after them.
Were there any other inmates inside the jail charged with NSA?
Out of more than 800 inmates, only 14 were detained under the NSA. All of them were alleged militants – either overground or hard-core. I was the only journalist detained under the NSA.
You are out now and well in time to cast your vote in the ongoing Lok Sabha elections…
Yes, I'll definitely go and vote on April 18 [Inner Manipur].
What will be your main consideration?
I will look for a political party which can uphold the fundamental rights of the citizens, a party which believes in secularism.
What about the citizenship bill?
The Citizenship Amendment Bill (CAB) is a very important factor. I was earlier talking about apprehensions that something worse will happen if we keep on accepting this majoritarian rule of one party, one religion… historical facts being distorted and some alien culture taking over the indigenous traditions. I had been alerting people about it earlier also.
The Citizenship Bill was passed in the Lok Sabha when I was in jail and smaller minority groups in Manipur (like everywhere else in the Northeast) felt threatened by this regime. Hindutva or Hindu rashtra is not for the people of Manipur. Our state has a different culture with different ethnic and minority communities. That is why when the CAB was passed in the Lok Sabha the entire region erupted into protests.
But the Manipur government too opposed the citizenship bill. Although CM Biren Singh took time to make his stand clear…
See, the BJP manifesto clearly talks about bringing back CAB if it comes to power after this Lok Sabha elections. The CM's opposition to CAB seems more like a regional political compulsion that time.
Apart from CAB and other issues, Armed Forces (Special Powers) Act is another big issue.
Manipur has been fighting for long to repeal AFSPA, with Irom Sharmila as the face of the struggle. Do you think the movement has taken a back seat after Sharmila broke her fast and moved out of the state?
I would say yes. Also, it's not just AFSPA, but every other civil society movement that we used to have in the past has been affected because the present chief minister has a lot of connections with the people in civil society movement. He seems to be able to persuade them… The change of government has also led to lot of other changes. We don't see any NGO and civil society organisations taking up any issue in the last two years.
Many people in Manipur feel the civil society organisations are not talking about so many issues probably because of the fear… because the government is really active in arresting or threatening people.
But things are changing slowly. People are now opening up after my arrest. I see lot of posts and comments on social media where people are ready to speak up. And that is what I want and that is what a society needs. Now, we need a new direction to the people's movement in Manipur.
What are your plans now?
I'll continue to work for free speech and the cause of the indigenous people. My ordeal, my experience in the past few months have made me stronger.