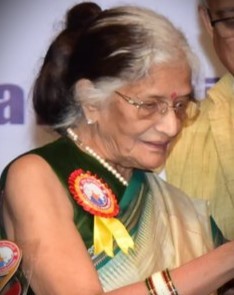 Mahatma Gandhi's granddaughter Usha Gokani passed away in Mumbai on Tuesday (March 21). She was 89.
Gokani spent her childhood in Wardhas Sevagram Ashram, which Gandhiji founded.
She was a former chairperson of the Gandhi Smarak Nidhi, housed in Mani Bhavan in Mumbai. Mani Bhavan executive secretary Meghshyam Ajgaonkar told PTI that Gokani was ailing for the past five years and was bedridden for two.
About Mani Bhavan
Mani Bhavan has a special significance in the history of India's freedom struggle. Mahatma Gandhi often stayed there from 1917 to 1934, and it bore witness to some of the momentous decisions and mighty movements in the saga of the country's fight for freedom.
Mani Bhavan houses two organizations engaged in the propagation of Gandhian teachings: Gandhi Smarak Nidhi Mumbai and Mani Bhavan Gandhi Sangrahalaya. Gandhi Smarak Nidhi Mumbai was established with the object of conducting and promoting manifold constructive activities with which Mahatma Gandhi was associated during his lifetime.
The Smarak Nidhi formally started functioning on October 2, 1955, when Mani Bhavan was handed over to the then Gandhi Memorial Society.
(With agency inputs)