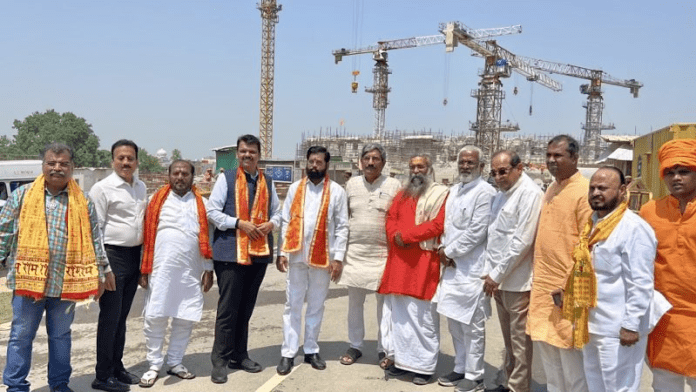 Maharashtra Chief Minister Eknath Shinde on Sunday reached Ayodhya on a day-long visit to pay obeisance to Lord Ram at the Ram temple. Thousands of his supporters accompanied him.
"I am going to Ayodhya for darshan of Lord Ram. We have blessings of Lord Ram that is why 'dhanush-baan' (bow-arrow, elections symbol of Shiv Sena) is with us," Shinde told reporters in Lucknow before leaving for Ayodhya.
Also read: Maharashtra: Ajit Pawar mocks publicity around CM Shinde's Ayodhya visit
Maha Aarti
He reached Ram Katha helipad and will be attending 'Maha Aarti' at Ram temple and will also oversee the ongoing construction work of the temple and meet saints. He will attend 'Maha Aarti' in the evening at the Saryu river bank.
Maharashtra Deputy Chief Minister Devendra Fadnavis and Uttar Pradesh minister Swatantra Dev Singh were also accompanying Shinde.
First visit as CM
This is Shinde's first visit to Ayodhya after being sworn in as the chief minister of Maharashtra in June last year.
Thousands of 'Shiv Sainiks' have also reached the city and almost all hotels, guest houses and dharamshalas in the temple town have been booked to accommodate Shiv Sena ministers, MPs and MLAs.
The Shiv Sena is planning to highlight Shinde's visit to Ayodhya across the country.
Earlier, Shinde had visited Ayodhya as a Shiv Sena leader on November 25, 2018, a year before the Supreme Court announced the verdict in the Ram Janmabhoomi-Babri Masjid land dispute. He also visited Ayodhya in March 2020 and June last year.
Talking about his visit to Ayodhya for the first time after becoming the chief minister, Shinde said he was happy and satisfied to see the atmosphere here.
He expressed his gratitude to Uttar Pradesh ministers and Chief Minister Yogi Adityanath, whom he will be meeting later in the day in Lucknow.
"Shiv Sena founder Bal Thackeray wanted to see a grand Ram temple come up in Ayodhya," Shinde had said.
Raut hits out
Meanwhile, Shiv Sena (Uddhav faction) leader Sanjay Raut on Sunday hit out at Shinde and Fadnavis over their visit to Ayodhya. Raut said that they are visiting Ayodhya at a time when "farmers in the state are in distress due to rain and hailstorm".
Also read: Maha CM Shinde leads Savarkar Gaurav Yatra in Thane, slams Rahul
"They are ignoring all the issues in the state and going to Ayodhya…will Lord Ram bless them?" Raut said.
The Shiv Sena leader added, "We also believe in Lord Ram. We have also gone to Ayodhya several times. But BJP never came with our party. They are copying us. The public knows who is original and who is the duplicate."
(With Agency inputs)