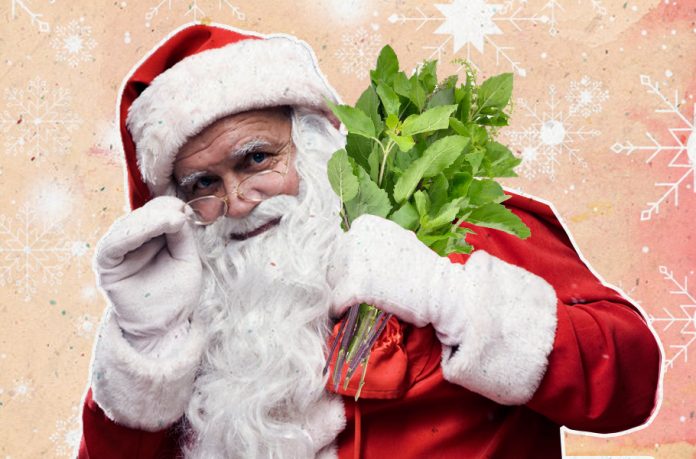 A bejewelled Christmas tree, and Santa sledging through the snow with his bag full of goodies is probably the most romantic image associated with Christmas. In reality, Christmas for the non-Christian Indian is more about plum cakes, carols from the neighbourhood church, and counting down to the New Year.
Ironically, the spirit of Christmas, a public holiday in India considering its 2.3 per cent Christian population, is slowly getting replaced by 'Hindu' alternatives and slogans, abruptly inserted to 'save' the local culture from alleged western influence. And the image of the Christmas conifer is being taken over by our own holy Tulsi.
On Friday, as millions celebrated Christmas, Twitter trended with the hashtags #TulsiPujanDiwas, #GitaJayanti, #RevivingVedicCulture and #CelebrateVedicFestivals, with users calling for an awareness about Hindu and Vedic culture instead of revelling in a western festival.
While Twitterattis shared photos of celebrating Tulsi Pujan Diwas, dishing out facts about the many benefits of the Holy Basil and its importance in Hindu culture, several others urged fellow Indians to boycott Christmas, a western import and 'product of secularism'.
Gita Jayanti and #TulsiPujanDiwas on 25th Dec are being celebrated in various parts of India and across the world.
Watch the beautiful glimpses of celebration in Ahmadvad city.#CelebrateVedicFestivals pic.twitter.com/6uiPKJkcDs

— Rajesh parmar (@RajeshParmarOm) December 25, 2020
"If any Hindu was asked what is on 25 December 2020? Christmas will be the reply immediately Very rarely would say #Gita_Jayanti, why so? Root Cause – Secularism SOLUTION – #HinduRashtra Promoting #TulsiPujanDiwas is also part of a #TheGreat_Initiator. RT if you agree," tweeted a user.
Celebrities, politicians and companies who extended Christmas greetings to public were answered with tart rejoinders and messages of 'Happy Tulsi Pujan Diwas' and 'Happy Gita Jayanti' instead.
"I don't celebrate Christmas @zomatoin i celebrate #TulsiPujanDiwas #BhagwadGita #Bhagavadgita ok so don't wish me," said a user, replying to food aggregator Zomato's Christmas greetings.
Even President Ramnath Kovind was not spared.
"Sir with same spirit expect u to wish Hindus too on Vaikunta Ekadashi. They too deserve u r attention even it's a accepted fact that they r second class Citizens in Bharat," tweeted a user in reply to Kovind's wishes for Christmas.
The Tulsi Pujan Diwas was initiated in 2014 by self-styled godman Asaram Bapu, who is serving sentence in a rape case, to worship the plant, considered holy in Hindu religion. The day is celebrated by right-wing outfits including the Vishwa Hindu Parishad and Bajrang Dal.
A majority of the tweets trending with the hashtag #JokerNahiDeshbhaktBano – initially used against Congress leader Rahul Gandhi by BJP MLA Dinesh Chaudhary – asked people to teach their children to emulate Indian saints instead of Santa Claus (the alleged 'joker' in the trollfest).
"This country is not of Santa, but of Shankaracharya, Tulsidas, Kabir and Valmiki," said a tweet.
Don't be a Joker, Be a Desh Bhakta ?#जोकर_नहीं_देशभक्त_बनो pic.twitter.com/6FPBazUB7o

— महावीर जैन, ಮಹಾವೀರ್ ಜೈನ, Mahaveer Jain (@MahaveerVJ) December 25, 2020
I support this trend#जोकर_नहीं_देशभक्त_बनो#CelebrateVedicFestivals#तुलसी_पूजन_दिवस pic.twitter.com/7QRilVomDR

— ?अशोक पासवान? (@AshokPa72976701) December 25, 2020