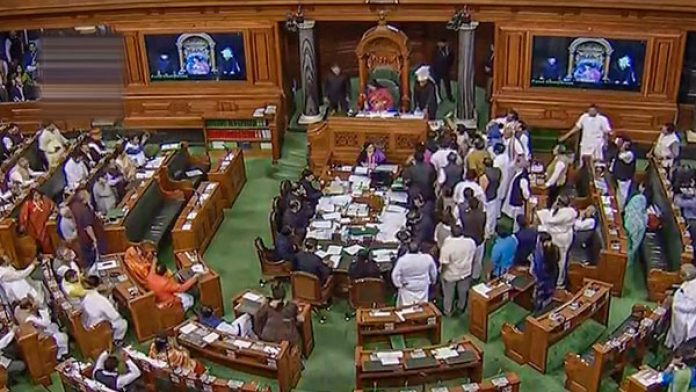 The Centre as part of austerity measures in view of the COVID-19 pandemic, has proposed two bills to temporarily reduce salaries and allowances of lawmakers and ministers.
The Lok Sabha on Tuesday (September 16) passed the Salaries and Allowances of Ministers (Amendment) Bill, 2020, which seeks to cut the salary of MPs by 30 per cent for one year, by amending the Salaries and Allowances of Ministers Act, 1952.
The bill will be debated in the Rajya Sabha on Wednesday (September 17).
The law decides the amount that lawmakers will be paid as salary.
The bills will reduce the monthly sumptuary allowance of ministers for a period of one year, by 30 per cent. The salary cut will be effective from April 1, 2020.
The bill, if passed, will reduce a lawmaker's salary to ₹70,000 a month, from the earlier pay of ₹1,00,000. Also, the 'constituency allowance' of ₹70,000 will be revised to ₹49,000, while the office expense allowance of ₹60,000 per month will be cut down to ₹54,000.
Related news: COVID, economy, migrants: How govt side-stepped key concerns in House
The Prime Minister's sumptuary allowance has also been cut to ₹2,100 from ₹3,000 a month, earlier.
Similarly, the sumptuary allowance of ₹2,000 for cabinet ministers will now be reduced to ₹1,400 per year. The same for ministers of state or a junior minister has been brought down from ₹1,000 to ₹700.
Salaries of Indian lawmakers is revised every five years. The cut in salaries is expected to save the government exchequer almost ₹54 crore.