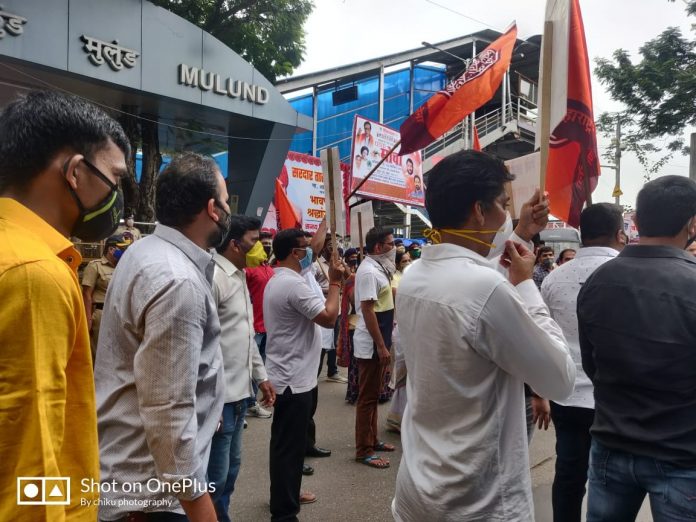 The Centre has been consistently opening up sector after sector as part of the larger plan to bring normalcy in the country and boost economy in the backdrop of Covid pandemic, but sadly the Mumbai local train service — the lifeline of the city — has remained confined to those in emergency medical and essential services.
A majority of the middle-class office goers are left with no option but to find a public transport bus (BEST), which gets over-crowded and is often difficult to find these days.
Meanwhile, Mumbaikars are losing patience as the demand to restart local trains is gaining momentum. On Tuesday (September 22), five party workers of the Raj Thackeray-led Maharashtra Navnirman Sena (MNS) defied the government diktat and travelled in a local train to register their protest.
MNS general secretary Sandeep Deshpande and four others were arrested by the Government Railway Police (GRP) for breaking the law and were handed over to Karjat police station.
Given below is a tweet shared by the MNS, showing the party workers travelling by local in defiance of the law.
कोरोना काळात पोटाची खळगी भरायची असेल कामावर जावं लागतंय, त्यात ८ तास रांगेतला-गर्दीतला प्रवास, त्यानंतर ८ काम करायचं… जनतेची ही ससेहोलपट सरकारला समजत नाही का?

ह्या महत्त्वाच्या प्रश्नाकडे सरकारचं लक्ष वेधण्यासाठीच रेल्वेप्रवास करत महाराष्ट्र सैनिकांचा उस्फुर्त सविनय कायदेभंग. pic.twitter.com/Yast8bQ2qB

— MNS Adhikrut – मनसे अधिकृत (@mnsadhikrut) September 21, 2020
BJP member of parliament from Mumbai North-East, Manoj Kotak, raised the issue in Lok Sabha today. Kotak told the House that the average Mumbaikar is suffering in the absence of an efficient transport service that is so essential to keep Mumbai – the economic capital of the country – alive.
"Local service was started in June but was restricted to medical professionals and those in essential services. What about others? How do they travel long distances in the absence of the quintessential local trains?" he said.
Kotak also asked the railway ministry to provide stoppages to the special local trains at Bhandup and Vikroli stations. "The trains stop only at major stations, leaving doctors and nurses living in other areas to rush to bigger stations. Kindly take this demand seriously," he added.
Meanwhile, the daily commuters are losing their cool. Sachin Vidhate, an office-goer, said, "I need to travel every day from Vashi to Chhatrapati Shivaji Terminus for work. It is a 90 km drive which can be covered by train in about one hour. Currently, I have to change bus a number of times every day and it still takes me more than 2 hours to reach by destination. My job profile does not allow me to work from home. What should I do?"
Ironically, the city bus service (BEST), has been running in full force. "Is it that the coronavirus spreads only in trains and not in buses? If not then why are the people of Mumbai made to suffer the agony of travelling in jam-packed buses every day? MNS general secretary Sandeep Deshpande said.
Mumbai and Maharashtra were the worst affected by Covid-19 pandemic in the initial days of the lockdown and remain so till date. Mumbai being the economic driver of the country suffered badly as life came to a standstill which had a terrible impact on business and industry.