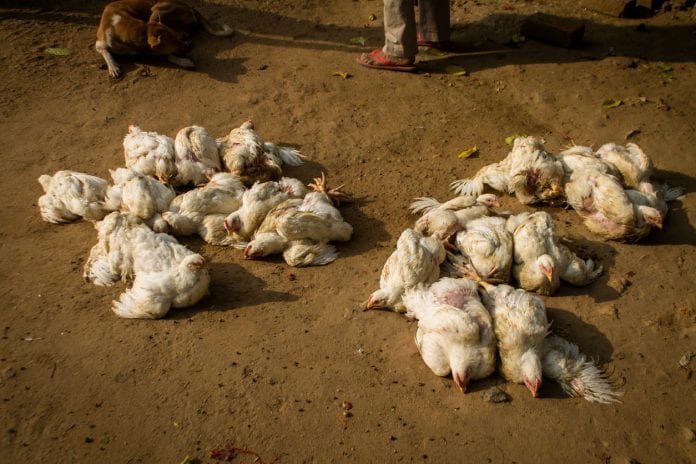 Kerala, which on Sunday (March 8) reported five cases of coronavirus, is now planning to cull poultry and domestic animals in two villages of Kozhikode following detection of bird flu in two poultry farms of Kodiyathur and Vengaeri villages, reports said.
Almost 10,000 to 12,000 birds including ducks and hens within one kilometre radius of the affected areas would reportedly be culled.
Related news: Bird flu outbreak in Chhattisgarh; over 15,000 birds culled 
Quoting a senior state animal husbandry department official, a Hindustan Times report said a meeting to review and take steps to contain the spread of bird flu was chaired by state forest and animal husbandry minister K Raju on Saturday (March 7).
The report said, a high-level team of the department has left for the affected areas to take stock of the situation.
Kozhikode district collector Sreeram Sambasiva Rao also chaired an urgent meeting of officials of the animal husbandry, health and police on Saturday.
He said the state government, has deployed action teams in each village comprising five members.
Related news: If it's coronavirus today, it was SARS earlier. What tomorrow? 
"Swift action has been initiated to cull all chickens, ducks and other domestic birds in and around one kilometre radius of the two farms. This is only to prevent spreading of the virus to nearby areas. Though the exact numbers are not available, it could run to a few hundred including all chicken in these two poultry farms," news18 quoted deputy director of the animal husbandry department, Thiruvananthapuram,  MK Prasad as saying.
The Kerala government decision came after there were reports of chickens dying in two farms in Kodiyathur and Vengaeri villages of Kozhikode two days ago. The outbreak of bird flu was confirmed after authorities sent the samples to the National Institute of High Security Animal Diseases in Bhopal.
Related news: A money-making venture for cattle farmers is saving vultures from extinction
"There is nothing to panic. We are monitoring the situation. Inspections will be carried out in all animal farms," HT quoted minister K Raju as saying.
Bird flu or Avian influenza often occurs among aquatic birds and can infect domestic fowl and other bird and animal special.