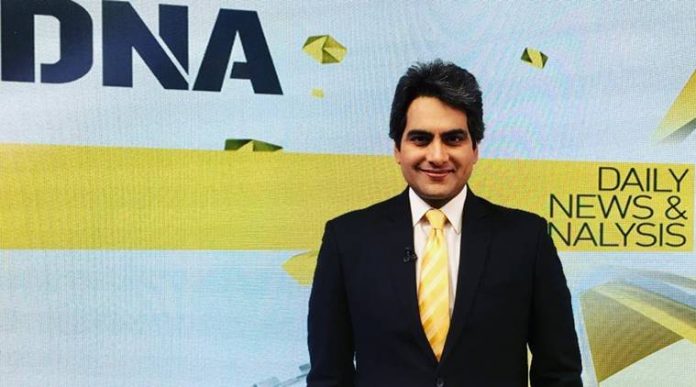 Zee News editor-in-chief Sudhir Chaudhary has been booked under non-bailable sections by the Kerala Police. An FIR (first information report) has been filed at the Kozhikode Kasaba police station of Kerala against the Zee News anchor, based upon a complaint accusing him of spreading religious animosity and hurting the sentiments of the Muslim community. This is in connection with a news television programme which aired on his channel on March 11.
The news segment anchored by him on March 11 focused on different types of 'jihad', using a flow-chart to describe them. The case was filed against Chaudhary under non-bailable section 295 A of the Indian Penal Code (IPC). The case was filed based on a complaint by Adv P Gavas, the state joint secretary of All India Youth Federation (AIYF), which is the youth wing of the CPI in Kerala.
Gavas stated that he decided to file the complaint against the editor after noticing a clip of the programme, sent by a friend, two days after the show aired on television. Gavas stated that the programme aired on the channel is not rooted in a system that they believe in. They acknowledge and believe in the constitutional obligations towards all religions and the secular values of the country. The programme is a stark contrast to those beliefs and is completely against one particular religious community.
Through the complaint, Gavas alleged that Sudhir Chaudhary targeted India's muslims through the 'jihad flow-chart', with an aim to raise religious tensions and create fissures between various communities. He also pointed to the advisory of the Ministry of Information and Broadcasting. According to the guidelines, the advisory warns against using words or visuals contemptuous of religious groups or which promote a communal attitude.
RELATED NEWS: When Arnab Goswami 'bluffed' about being attacked during 2002 riots
Gavas consulted the AIYF state leadership before filing the complaint on March 17. The complaint was then sent to the Kerala DGP Lokanath Behera and the copies were forwarded to the Kozhikode Police commissioner as well as the Union Home Minister.
Meanwhile, Sudhir Chaudhary sarcastically said in a tweet that the FIR is his 'Pulitzer Prize' for reporting the truth.
Here's my Pulitzer Prize for reporting the truth.Sharing the citation— an FIR filed against me by the Kerala police under nonbailable sections.The award for exposing inconvenient facts.A clear msg for media.If u don't toe the decades old pseudo-secular line you'll be behind bars. pic.twitter.com/zV3GvNg2YR

— Sudhir Chaudhary (@sudhirchaudhary) May 7, 2020
Additionally, the allegations made by the editor in his show was cheerfully received by many viewers, including a BJP leader from Jammu and Kashmir, Nirmal Singh. However, many others have called out the bigotry and dog-whistle politics of the programme.