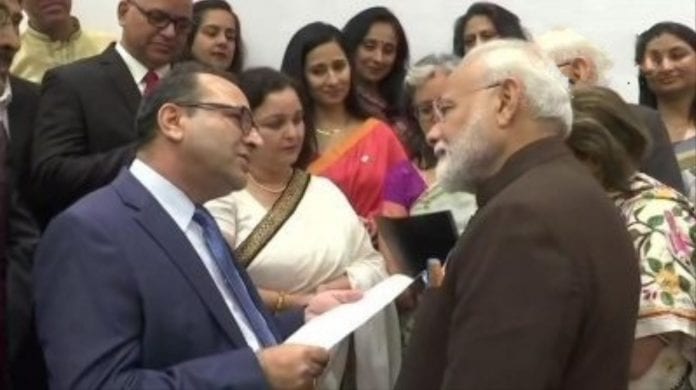 Soon after Prime Minister Narendra Modi landed in Houston on Saturday (September 21) to attend the much-awaited 'Howdy Modi' event, he had an emotional interaction with a delegation of Kashmiri Pandits, who thanked him for abrogating Article 370, on the behalf of the 7 lakh Kashmiri Pandits settled across the globe.
A member of the delegation also kissed Modi's hand in a gesture of thankfulness.
"We look forward to working with government and newly constituted Union Territories to bring inclusive and sustainable development for benefit of all. We look forward to returning home in order to restore Kashmiri civilisation's core values of peace, pluralism, religious freedom," ANI quoted Surinder Kaul, who led the delegation, as saying.
#WATCH United States: A delegation of Kashmiri Pandits meets and interacts with Prime Minister Narendra Modi. A member kisses PM Modi's hands and says, "Thank you on behalf of 7 Lakh Kashmiri Pandits." pic.twitter.com/8xKBqNlOvM

— ANI (@ANI) September 22, 2019
Modi, who recited the shloka 'Namaste Sharade Devi' with the delegation, also acknowledged the hardships endued by the community. "You have suffered a lot, but the world is changing. We have to move ahead together and build a new Kashmir," he told them.
Later, the group presented a memorandum requesting the prime minister to establish a task force or advisory council from their community be established under MHA to bring together community leaders, subject matter experts and key stakeholders to help in the development of a plan to repatriate Kashmiri Pandits to the region.
(With inputs from agencies)