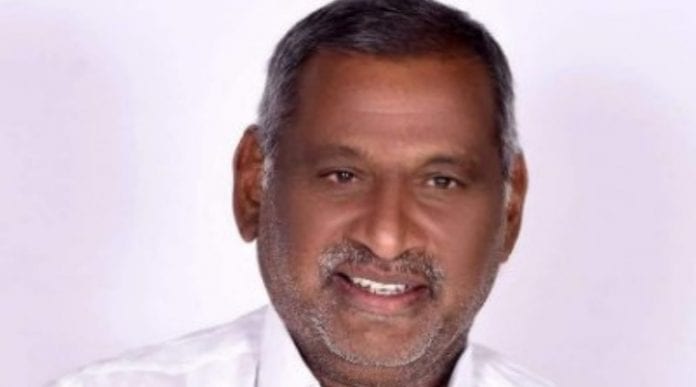 J C Madhuswamy, memeber of Karnataka Legislative Assembly has come under fire after he was caught on camera verbally abusing a woman. The incident happened in the Kolar district and the video has gone viral on social media. The Minister later apologised after a reprimand from Karnataka Chief Minister BS Yediyurappa.
The incident was reported on Wednesday (May 20) when the minister had gone to inspect a particular pump house of the KC Valley project in the district when a woman complained to him about certain encroachments on tanks. The video highlights that when the woman asked him to take action against the encroachment, he wagged his finger at her and said, "Aye! Shut your mouth, rascal." The minister also directed the police to take the woman away from the area.
This is very sorry state of affairs.

Voice of a woman is suppressed by Verbal abuse by Hon Minister & Physical Abuse by Police Inspector by outraging the modesty of woman. She was plainly talking to Minister.

Request @DgpKarnataka to book criminal case & suspend the inspector. pic.twitter.com/cGdvcgiQKG

— Dr. Anjali Nimbalkar (@DrAnjaliTai) May 20, 2020
Meanwhile, Karnataka CM Yediyurappa on Thursday (May 21) objected to the remark made by Madhuswamy and stated that he has warned the minister against using such abusive words for anybody.
RELATED NEWS: Kumaraswamy warns Karnataka govt against ordinance to amend labour laws
Karnataka CM said that what Madhuswamy did was not correct and that he has warned him. Being a minister he should not talk like that to any one. He said that he will also talk to the woman and ensure that this does not happen again.