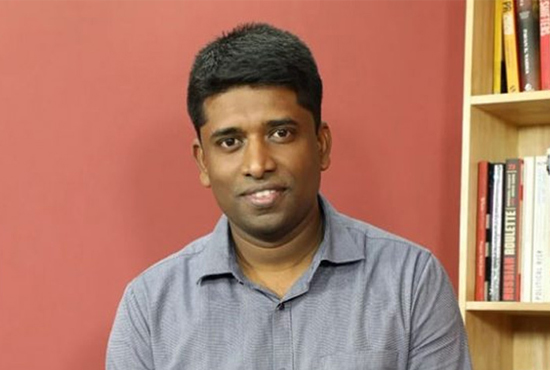 Former IAS officer Kannan Gopinathan, who made headlines for quitting the civil services over the Centre's decision to scrap Article 370 of the Indian Constitution to Jammu and Kashmir, said that he was detained by the police at the Uttar Pradesh border on Saturday (January 4) en route Aligarh Muslim University (AMU).
He was later released on a personal bond and escorted till the border.
In a series of tweets, Gopinathan said he has been detained at the border and was being taken to a local dhaba (eatery) in Agra.
Detained at UP border

— Kannan Gopinathan (@naukarshah) January 4, 2020
The former IAS officer was on his way to speak at an event hosted by the Aligarh Muslim University against the CAA, NPR and NRC along with other activists including Kavitha Krishnan.
Taking me to this Dhaba. Police have been very cordial and respectful. Saying they are just doing as per order. pic.twitter.com/aHyeGIUrDD

— Kannan Gopinathan (@naukarshah) January 4, 2020
Kannan Gopinathan said that Aligarh district administration has asked him not to attend the event based on the orders it received from the UP government. However, he added that he will be attending the event despite the order.
This is the order shared by the CO. pic.twitter.com/7k90BNG441

— Kannan Gopinathan (@naukarshah) January 4, 2020
The notification directed the senior superintendent of police to restrict Gopinathan from entering the UP district. Citing a previous incident, the order stated that the law and order situation was compromised during similar visits by Swaraj India leader Yogendra Yadav and Dr Kafeel Khan.
Released on personal bond. Now being escorted out till the border of Independent Banana Republic of Uttar Pradesh. https://t.co/AVIG1lfKj1

— Kannan Gopinathan (@naukarshah) January 4, 2020
Gopinathan, who was the secretary, power department of the Union Territories of Daman and Diu, and Dadra and Nagar Haveli, submitted his resignation to the Home Ministry on August 21 against the Centre's decision to revoke the special status to Jammu and Kashmir under Article 370.
After tendering his resignation, Gopinathan, who hails from Kottayam district of Kerala, had said that abrogation of Article 370 of the Constitution was the "right of elected government", but in a democracy, people have the right to respond, too.