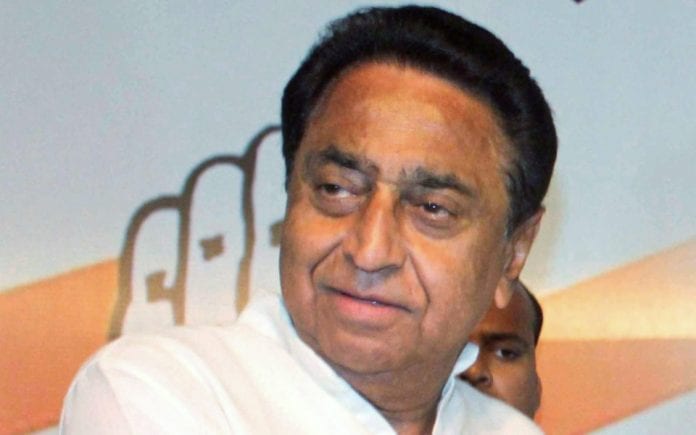 Hours before the anticipated trust vote in the Madhya Pradesh Assembly at 2pm, Chief Minister Kamal Nath resigned from his post on Friday (March 20).
Nath has reportedly submitted his resignation to Madhya Pradesh Governor Lalji Tandon.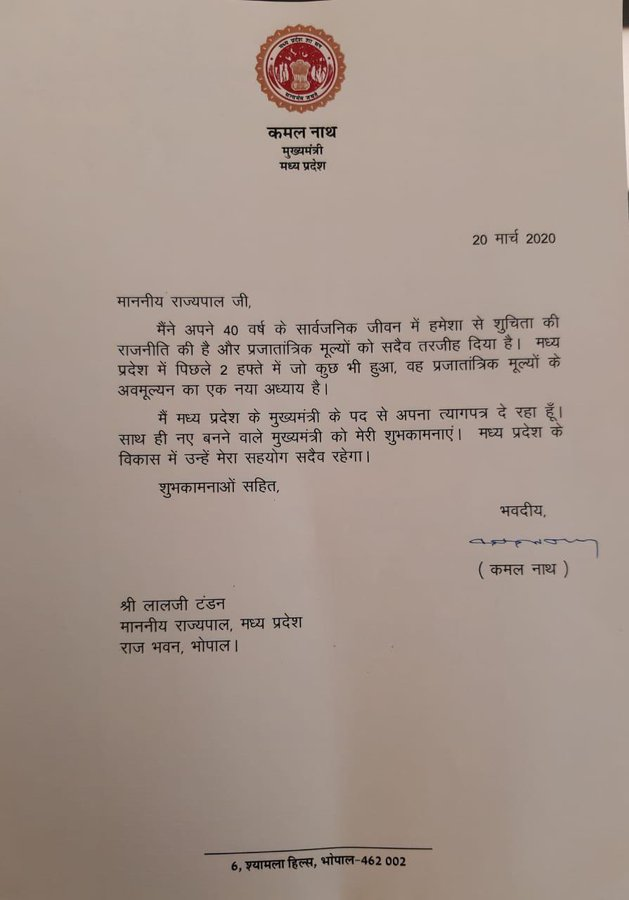 Announcing his resignation at a press conference in Bhopal, Nath accused the BJP of conspiring against his government.
"In my 40 to 45 years of career I have always believed in development. Time is testimony to it. The people gave us five years to build a new identity for the state, so that it is not compared with smaller states anymore. And we have been working towards it. But the BJP couldn't tolerate our work and hatched a conspiracy against my government. Everyone knows what the BJP's intentions were when they used to say that 'this government will fall in a month'," he said.
He also stood by his earlier claim that the BJP has been holding the 22 rebel Congress MLAs hostage in Bengaluru, to effect the fall of his government.
"Only time will tell what really transpired. Matters will be probed. But people responsible for this should remember that tomorrow comes after today and day after comes after tomorrow. Remember, that day after will come for sure," he said.
Related news | After SC order, Kamal Nath govt to face floor test at 2 pm today
His decision comes a day after the Supreme Court ordered the Madhya Pradesh Speaker N Prajapati to hold a floor test in the Assembly before 5 pm of Friday. Following this, the speaker, immediately accepted the resignations of the 16 rival MLAs that were pending with him, reducing the government's share of MLAs to 99 and bringing down the effective strength of the Assembly to 206. In case of a trust vote, it would have been easy for BJP, which has 107 MLAs to meet the majority mark of 104.
With the numbers having stacked against him, Nath chose to leave without a fight.
Commenting on the development, BJP leader Jyotiraditya Scindia said it was a victory of the people of Madhya Pradesh.
"I have always believed that politics should be a means to serve people. But the government of Madhya Pradesh had lost its way. Today, truth has prevailed. Satyameva Jayate," he tweeted.
मध्य प्रदेश में आज जनता की जीत हुई है। मेरा सदैव ये मानना रहा है कि राजनीति जनसेवा का माध्यम होना चाहिए, लेकिन प्रदेश सरकार इस रास्ते से भटक गई थी। सच्चाई की फिर विजय हुई है। सत्यमेवजयते।

— Jyotiraditya M. Scindia (@JM_Scindia) March 20, 2020
The Kamal Nath government was pushed to decline after then Congress MLA Jyotiraditya Scindia resigned from the party, and joined the BJP, taking along 22 MLAs loyal to him. While the speaker had earlier accepted the resignations of only six of these MLAs, he okayed the rest after the Supreme Court's March 19 order to hold a floor test on March 20.