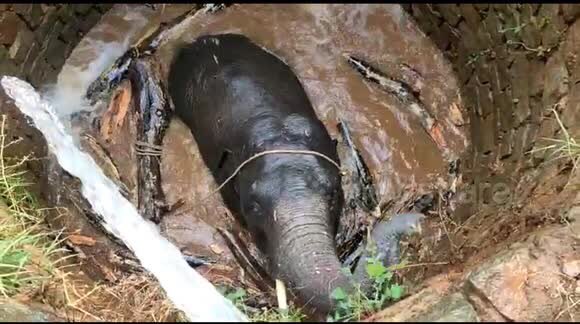 The Jharkhand forest department officials lauded for rescuing an elephant calf after it fell into a 25-foot-deep well. The team applied the Archimedes' principle after they failed to pull out the calf.
The stranded elephant was found by the villagers in Amilya Toli village, Gumla, Jharkhand. Passers-by, after seeing the animal in distress, immediately informed the forest department.
Officials used three motorised pumps to fill the well with water and excavated the ramp so that the elephant could float up and climb out.
According to reports, one of the forest officials said the elephant had no injuries from the fall and went safely into the forest after climbing out.
Indian forest service officer Ramesh Pandey praised the team for the use of Archimedes's law to save the elephant.
Heartwarming pictures of how intelligently the team @dfogumla and villagers using Archimedes's physical law of buoyancy save an elephant calf who had fell in a well. They pumped water into well to float the elephant to surface. Great work. @Forest_Dept_GOJ pic.twitter.com/DP8ydrctsp

— Ramesh Pandey IFS (@rameshpandeyifs) January 30, 2020