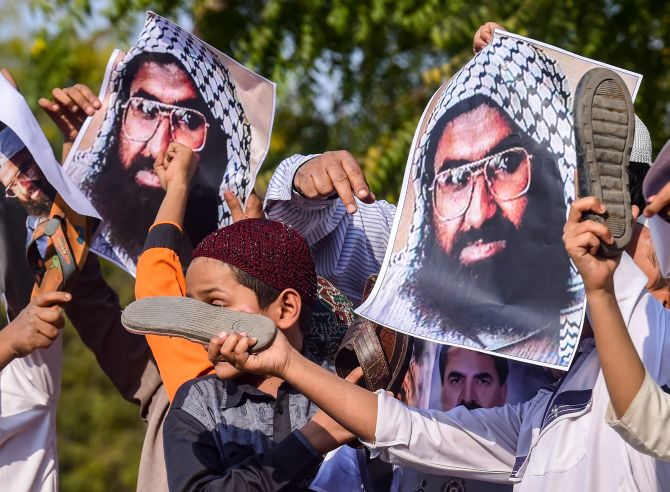 JeM renames itself after Masood Azhar passes baton to brother
Pakistan-based terrorist outfit Jasih-e-Mohammad has renamed itself to Majlis Wurasa-e-Shuhuda Jammu wa Kashmir, at a time when international pressure is high to curb its terrorist activities and training of militants in Pakistan.
The flag of the organisation is same as its mother outfit with only change of the word "Al-Islam" instead of "Al-Jihad", according to the Hindustan Times report. The outfit was previously known as Khudam-ul-Islam and Al Rehmat Trust.
The development comes a few days after Mufti Abdul Rauf Asghar, the younger brother of notorious terrorist Masood Azhar took reins of the organisation, said sources.
The "re-activation" of terror camps in Balakot, which were destroyed in airstrikes by the Indian Air Force, is being attributed to Asghar's leadership. A Hindustan Times report said that Asghar has been motivating recruits in Bhawalpur and Sialkot to attack Indian security establishments. Asghar reportedly was also instrumental in the hijacking of Indian Airlines Flight-814 in Kathmandu during which Masood Azhar and other terrorists were released.
Azhar, who was declared a global terrorist by the United Nations in May this year, has been reported to be terminally ill.
Quoting counterterror agencies, the HT report said madrasas such as Qauat ul Islam, Abu Huraira and Ashab us Safa in Mardan; Al Sufa Zaida in Swabi, Faiz ul Quran in Nusratzai and Saad Bin Muaz and Tehfiz ul Quran in Okara, with an agenda of radicalisation and militant training, have been operationalised after the abrogation of Article 370 by the Indian government.
Also, Jaish leaders such as Qari Faisal, head of religious affairs at the Markaz Usman-o-Ali in Bhawalpur in a sermon on August 16 said after the revocation of Article 370, all treaties signed in the past 70 years by India and Pakistan stand nullified too with the valley reverting to its 1947 status, the report stated.
This also comes a day after the Indian Army chief warned that more than 500 terrorists in Balakot are waiting to infiltrate Jammu and Kashmir and that the army has been put on high alert to avert any attacks.