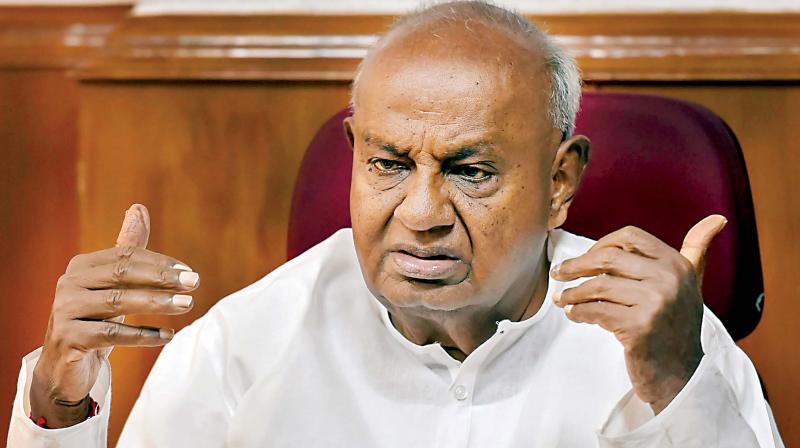 The ruling Janata Dal (Secular) in Karnataka plans to hold a statewide padayatra (foot rally) much on the lines of Andhra Pradesh Chief Minister Jagan Mohan Reddy and his predecessor Chandrababu Naidu.
Jagan had embarked on a padayatra for 11 months in 2017-2018 covering a distance of 3,648 kms across 13 districts in Andhra Pradesh. Meanwhile, his predecessor Naidu completed a 208-day journey covering 2,817 kms in 2012-13. In both the cases, the padaytras won them the chief minister's seat.
But in the case of JD(S), neither the 86-year-old party supremo Deve Gowda, nor his son Chief Minister Kumaraswamy, with their busy schedule will march through the state. Gowda's another son, Karnataka Revenue minister HD Revanna too is likely to give it a miss.
Also Read: After facing smear campaigns, HDK's son to lead party's IT cell in Karnataka
Former legislator and party campaign committee head Y S V Datta, who is in the race for the the party president post, which fell vacant after H Vishwanath quit, will lead the march.
Padayatras are not new to the JD(S). In 2015, a large number of farmers and JD(S) members took out a padayatra from Hubballi to Dharwad, seeking an early solution to the Kalasa Banduri Nala Project.
The march will commence in August and is expected to cover the state in two stages — from Cauvery to Tungabhadra, thereby covering south and central Karnataka, and from Tungabhadra to Malalprabha, covering Hyderabad-Karantaka and Maharashtra-Karnataka belt.
"After the poll debacle, we realised that youngsters were misled on emotional issues. The identities of regional party's are getting lost with the national party's (BJP) false agendas. We want to rebuild that image and tell them about the core problems that plagues the state and address those issues," Datta said.
He further added that like other southern states, the party wants a regional party in Karnataka to get stronger and command the Centre than succumb to their pressure tactics.
"Pro-Kannada organisations, writers, artistes and like-minded people were invited to be a part of the march," he said.