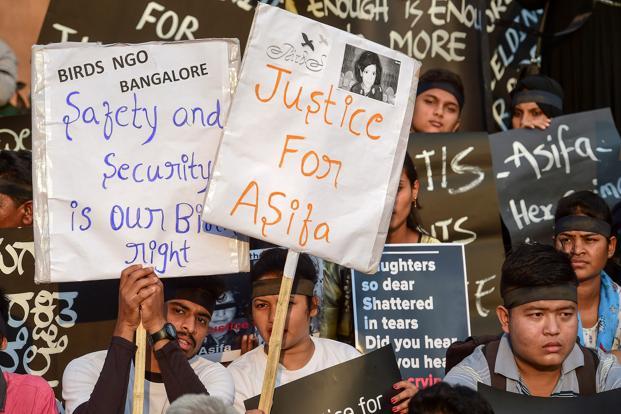 A local court in Jammu on Tuesday (October 22) ordered the superintendent of police (SP) to file an FIR against six members of the special investigation (SIT) team of the state crime branch including the then SP of Jammu, that probed the rape and murder of an eight-year-old girl in Kathua district, for allegedly torturing and threatening key witnesses to provide false evidence.
The court ordered FIRs to be filed against the then SP RK Jalla, ASP Peerzada Naveed, deputy superintendents of police Shetmbari Sharma and Nissar Hussain, sub-inspector Urfan Wani and Kewal Kishore of the crime branch of police. The court asked Jammu's SP Tejinder Singh to report compliance by the next date of hearing.
The court's order came after the witnesses Sachin Sharma of Kathua, Neeraj Sharma of Marheen and Sahil Sharma of Rajpura Samba, filed an application alleging torture by police during interrogation to "provide false evidence" against Vishal Jangotra, one of the accused in the case who was later acquitted. In their application, the three had alleged that no action was taken on their complaint in this regard even though they had filed it on September 24 with the Pacca Danga police station in Jammu.
"From the gist of the complaint, cognizable offences are made out against the non-applicants (six crime branch officials) herein. Therefore, the application under Section 156(3) CrPc is allowed with the direction to SSP Jammu to register FIR against non-applicants under relevant provisions of law and report compliance by November 7, the next date of hearing," the order issued by judicial magistrate Prem Sagar said.
On January 17, 2018, the body of an eight-year-old nomadic girl, a resident of Rasana village near Kathua in Jammu and Kashmir, who had gone missing, was found by police near her village. The autopsy report revealed that she was bludgeoned to death after being drugged and gang-raped in a temple.  Eight people were arrested for the rape and murder.
The SIT was formed by the then PDP-BJP government to probe the case.
Based on the SIT's report, in June this year, the three main accused – Sanji Ram, the caretaker of the temple where the girl was raped, special police officer Deepak Khajuria and Parvesh Kumar were sentenced to life imprisonment by a special court in Pathankot. Three others – sub-inspector Anand Dutta, head constable Tilak Raj, and special police officer Surender Verma were awarded five-year jail terms each for destroying evidence. While Sanji Ram's son Jangotra, was acquitted by the special court, the eight accused, a juvenile was tried under related provisions.