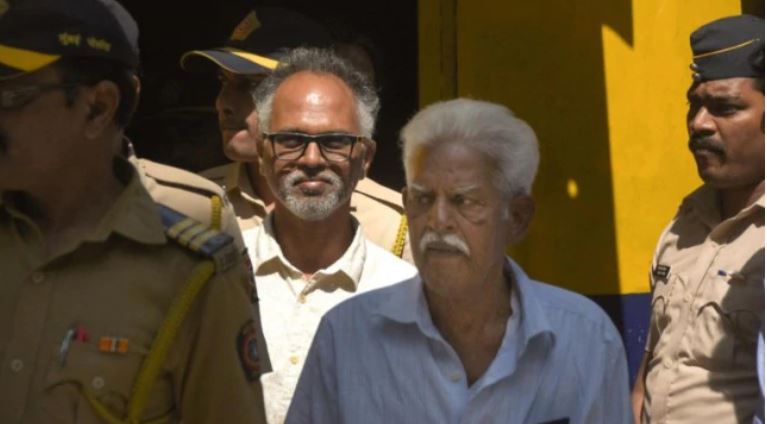 Ailing poet-activist Varavara Rao, 82, who was arrested in 2018 in Bhima Koregaon case, was granted conditional interim bail by the Bombay High Court for six months on Monday on medical grounds. He, however, needs to get bail in one more more case in Gadchiroli to be able to walk out of the Taloja jail.
The veteran Telugu revolutionary poet is currently undergoing treatment at Mumbai-based Nanavati Hospital, where he was admitted following the high court's intervention last year.
A bench of Justices S S Shinde and Manish Pitale ordered that Rao be discharged from the hospital, depending on his current health condition, and released on bail immediately after his discharge. It said if it did not grant Rao medical bail, it would be abdicating its duty to protect the principles of human rights, and a citizen's fundamental rights to life and health.
Advertisement
The bench further imposed stringent conditions in Rao's bail, including a direction to him to stay within the jurisdiction of the Mumbai NIA court for the period he is out on bail. Rao will have to submit his passport before the NIA court, and he has been forbidden to establish any contact with his co-accused in the case. He'll also have to furnish a personal bond of ₹50,000 and two sureties of the like amount.
Rao's daughter Pavani called it the first and big relief in 2.5 years in the Bhima-Koregaon case. "We are very happy but the condition is there that we have to be in Mumbai. We have to think about that and plan. We will talk to the lawyers," she said.
The high court had on February 1 closed all arguments in the case and reserved its verdict on Rao's medical bail plea and his wife Hemlatha's writ petition that alleged a breach of his fundamental rights due to inadequate medical care and his continued incarceration.
Related news | HC allows jailed poet Varavara Rao to be moved to hospital for treatment
Rao had secured a conditional bail about six months ago in a case in Pavghad in Madhugiri district of Karnataka. As per the conditions in that case, he has to execute a personal bond, which means he has to travel to Karnataka. But Monday's order bars him from leaving Mumbai.
His nephew N Venugopal told The Federal that the lawyers will approach Gadchiroli court for bail after obtaining the copy of the Bombay high court order. "We believe it may take two to three days to hear from the court there," he said.
Rao is an accused in the Elgar Parishad-Maoist links case which is being probed by National Investigation Agency (NIA). He has been in custody since August 28, 2018, awaiting trial in the case which pertains to alleged provocative speeches made at the Elgar Parishad in Pune on December 31, 2017, which police claims triggered violence the next day near Koregaon-Bhima war memorial on the outskirts of the western Maharashtra city. The police have also alleged that the conclave was organised by people with alleged Maoist links.
While the news of Rao's bail in Bhima Koregaon case brought cheers to activists and others, the conditions imposed by the court have left the family in utter confusion.
Related news | Words and ideas may outlast authority: Tharoor on arrest of activists
The immediate concern, according to nephew Venugopal, is that Rao and his 72-year old wife Hemalatha have to stay in Mumbai. Getting a flat on rent at a time when COVID-19 cases are seeing a surge in Maharashtra is their biggest worry.
Access to medical assistance in emergencies with the two senior citizens staying alone is another serious concern. "We all can't shift to Mumbai. We can rush in case of emergency only. But, before we reach there, treatment needs to get started," he said.
At his Hyderabad home, Rao has two doctors for immediate assistance. Once out of jail, the medical expenses of Rao have to be taken care of by the family. It may be mentioned that Rao contracted COVID-19 infection last year, while in jail. His plea for bail on medical grounds was rejected.
The family is, however, happy that Rao would be out of jail after over two years.