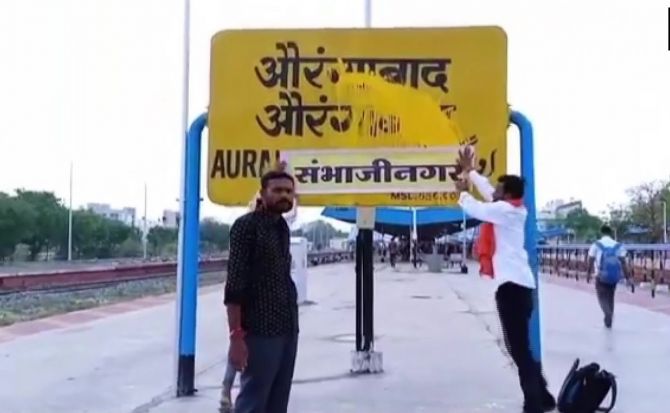 The Centre has approved the renaming of Maharashtra's Aurangabad city as Chhatrapati Sambhajinagar and Osmanabad city as Dharashiv.
Maharashtra Deputy Chief Minister Devendra Fadnavis shared the news on Twitter.
Aurangabad derives its name from Mughal emperor Aurangzeb, while Osmanabad was named for a 20th-century ruler of the princely state of Hyderabad.
Chhatrapati Sambhaji, the eldest son of warrior king Chhatrapati Shivaji Maharaj, was the second ruler of the Maratha state founded by his father. Sambhaji Maharaj was executed on Aurangzebs orders in 1689.
Dharashiv, the name of a cave complex near Osmanabad, dates back to the 8th century as per some scholars.
Hindu right-wing organisations had been demanding renaming of the two cities for long.
Fadnavis tweeted two letters from the Ministry of Home Affairs to the deputy secretary of the state General Administration Department dated February 24.
The letters stated that the Centre had no objection to the change in the names of these two central Maharashtra cities.
Fadnavis thanked Prime Minister Narendra Modi and Union Home Minister Amit Shah for the decision.
The state government headed by Chief Minister Eknath Shinde did what was promised , he said.
Notably, to rename Aurangabad as Sambhajinagar and Osmanabad as Dharashiv was the last cabinet decision of the Shiv Sena-NCP-Congress government which collapsed last June following Shindes rebellion against Uddhav Thackeray.
The new government headed by Shinde scrapped the cabinet decision and took a fresh decision.
(With Agency inputs)