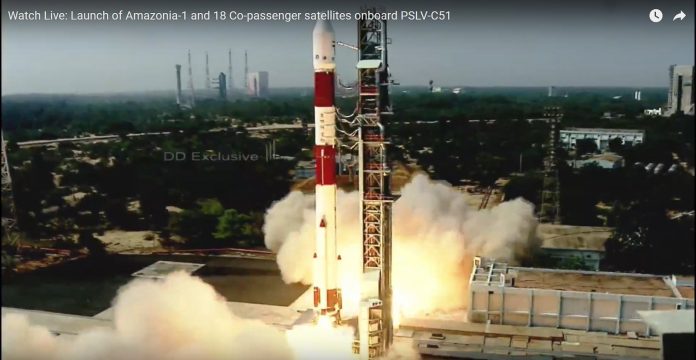 In a first, a 637-kg Brazilian satellite Amazonia-1 was launched by an Indian rocket rom the Satish Dhawan Space Centre (SDSC) at Sriharikota, Andhra Pradesh on Sunday.
It was also the first launch of the season for the Indian Space Research Organisation (ISRO).
"In this mission, India and ISRO, feel extremely proud to launch the first satellite designed, integrated by Brazil. The satellite is in very good health. I congratulate the Brazilian team," ISRO chief K Siva said at the launch.
"We have been working on this satellite for many years. This satellite which was launched today has a very important mission for Brazil. It will monitor the deforestation in the Amazon region and analysis of diversified agriculture across the Brazilian territory," said Marcos Ceaser Pontes, Minister for Science, Technology and Innovation, Brazil in his speech at the launch.
Pontes also called the mission a beginning of stronger relations between India and Brazil.
The rocket a PSLV-C51, the 53rd mission of PSLV is carrying 18 other passenger satellites apart from Amazonia-1.
The liftoff was scheduled at 10.24 am on Sunday, while the countdown had started a day before at 8.54 pm. Amazonia-1, which is the primary satellite, has been successfully separated from the fourth stage of PSLV-C51 and injected into orbit. The co-passenger satellites are scheduled to be separated from the rocket at 12.10 pm.
One of the co-passenger satellites include the SD Sat, named after the founding father of the space programme Satish Dhawan from the Chennai-based Space Kidz India (SKI). The satellite is sending a copy of the Bhagawad Gita in SD card into space and has a photo of Prime Minister Narendra Modi engraved on its top panel to show "solidarity and gratitude" to his Aatmanirbhar Bharat initiative and space privatisation.
Amazonia-1, an optical earth observation satellite of the National Institute for Space Research (INPE) is expected to bolster the existing structure by providing remote sensing data to users for monitoring deforestation in the Amazon region and analysis of diversified agriculture across the area.