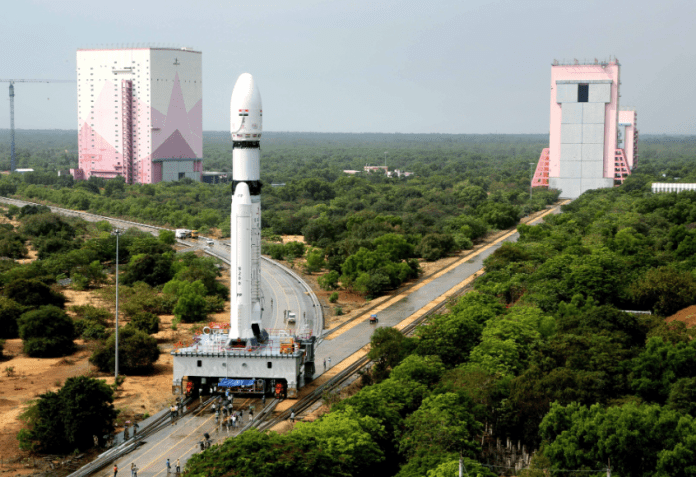 ISRO's heaviest rocket LVM3 carrying 36 satellites belonging to UK-based OneWeb Group lifted off from Sriharikota space port on Sunday (March 26).
The second dedicated mission for NewSpace India Ltd, the commercial arm of Indian Space Research Organisation (ISRO) is part of the agreement signed with Network Access Associates Ltd, United Kingdom (OneWeb Group Company) for launch of 72 satellites into Low-Earth orbits(LEO).
Also read: Launch of 36 satellites on ISRO's LVM3: Countdown begins
The first set of 36 satellites of OneWeb Group company was launched on October 23, 2022 by ISRO.
We have lift off!

Thanks to our colleagues at @isro and @NSIL_India for a successful launch. If you don't already, make sure to follow us for more updates throughout the rest of the mission.#OneWebLaunch18 🚀 pic.twitter.com/TsYbCZzAnP

— OneWeb (@OneWeb) March 26, 2023
At the end of the 24.5 hour countdown, the 43.5-metre tall rocket blasted off at 9 am from the second launch pad at Sriharikota, about 135 km from Chennai.
Bharti Enterprises is a major investor in OneWeb group, which is engaged in the implementation of the constellation of low earth satellites.
It is a global communication network powered from space, enabling connectivity for governments and businesses.
The launch was the 18th for OneWeb Group company while for ISRO, it would be the second mission in 2023 after the successful launch of SSLV/D2-EOS07 mission undertaken in February.
With Sunday's mission, OneWeb would have 616 satellites in its fleet which would be more than enough to launch global services later this year.
The mission marks OneWeb's second satellite deployment from India, highlighting the collaboration between the United Kingdom and Indian space industries, OneWeb said.
Across India, OneWeb would bring secured solutions not only to enterprises but also to towns, villages, municipalities and schools including the hardest to reach areas across the country, the company said.
The first set of satellite separation (comprising four of the 36 satellites) is scheduled to take place around 20 minutes after lift-off. The remaining satellites are expected to be placed into the 450 km circular orbits in sometime.
Also read: Chandrayaan-3 and Aditya L1 missions may take off by mid-2023: ISRO chief
The satellites after being placed into the low-earth orbits would be divided among 12 planes at an altitude of about 1,200 km from Earth's surface. Each plane would be separated in an altitude by 4 km to prevent inter-plane collision, ISRO said.
This is the sixth flight of LVM3 which was earlier known as the Geosynchronous Satellite Launch Vehicle MkIII (GSLVMkIII) with a cryogenic upper stage. It had five consecutive missions including the Chandrayaan-2.