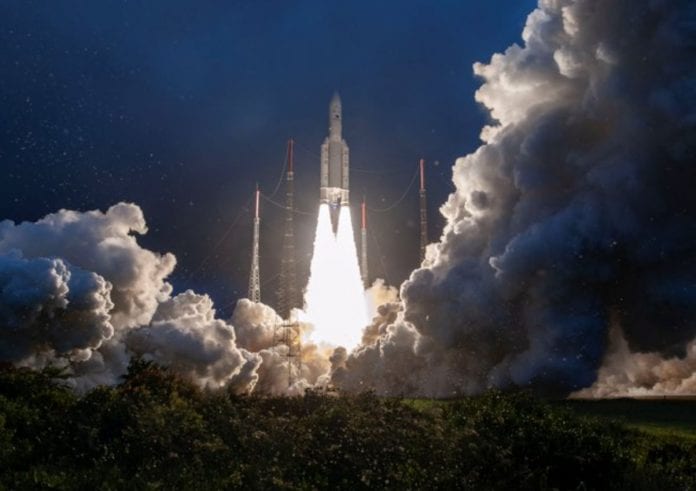 India's latest communication satellite GSAT-30, which aims at providing high quality television, telecommunications and broadcasting services, was launched into a geosynchronous transfer orbit by Ariane 5 rocket from French Guana in the wee hours of Friday (January 17), the Indian Space Research Organisation said.
The satellite blasted off from the Ariane Launch Complex in Kourou, a French territory located in northeastern coast of South America, at 2.35 am IST, and was injected into orbit by European space consortium Arianespace's Ariane 5 vehicle in a flight that lasted around 38 minutes.
ISRO which went live during the lift off, tweeted the satellite successful separation and injection into orbit.
India's communication satellite #GSAT30 was successfully launched into a Geosynchronous Transfer Orbit by #Ariane5 #VA251.

Thanks for your support !!!

For details please visit: https://t.co/FveT3dGuo6

Image Courtesy: Arianespace pic.twitter.com/67csn0zZq7

— ISRO (@isro) January 16, 2020

"GSAT-30 is configured on ISRO's enhanced I-3K Bus structure to provide communication services from geostationary orbit in C and Ku bands. The satellite derives its heritage from ISRO's earlier NSAT/GSAT satellite series," ISRO said in a press statement.
GSAT-30 which weighs around 3357 will be a replacement to the INSAT-4A spacecraft services with enhanced coverage. It would have a in-orbit lifespan of more than 15 years.
"The satellite provides Indian mainland and islands coverage in Ku-band and extended coverage in C-band covering Gulf countries, a large number of Asian countries and Australia," ISRO said.
(With inputs from agencies)