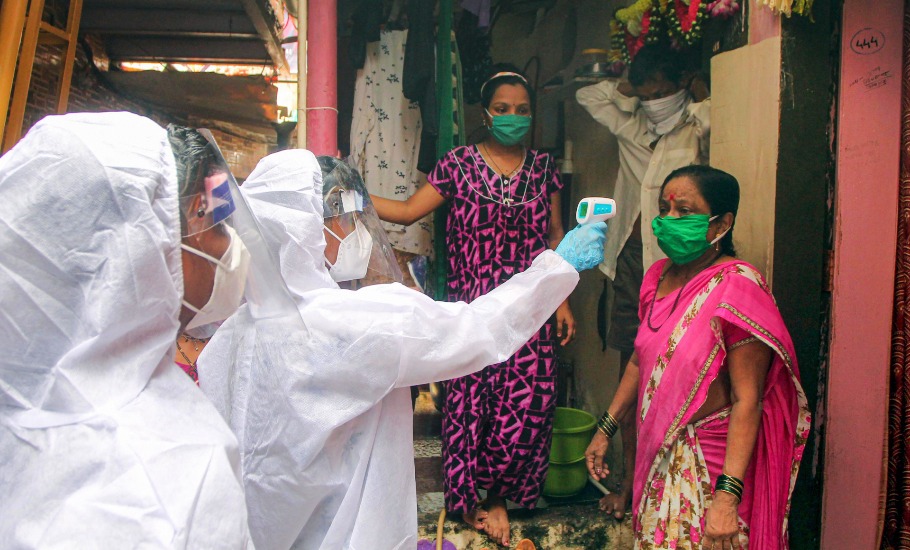 With a record single-day increase of 27,114 cases, India's COVID-19 tally zoomed past the eight-lakh mark on Saturday, according to health ministry data.
This comes just four days after numbers crossed the seven-lakh mark and it is the eighth consecutive day that COVID-19 cases in the country increased by more than 22,000.  It took 110 days for the number of cases in the country to reach one lakh but just 53 days more to race past the eight-lakh mark
While the total coronavirus caseload surged to 8,20,916 on Saturday, there were 2,83,407 active cases and 5,15,385 recoveries. "Thus, around 62.78 per cent of patients have recovered so far," an official said.
Advertisement
According to data updated at 8 am, the death toll climbed to 22,123 with 519 people succumbing to the disease in 24 hours.
Of the 519 new deaths reported, 226 are from Maharashtra, 64 from Tamil Nadu, 57 from Karnataka, 42 from Delhi, 27 from Uttar Pradesh and 26 from West Bengal. Andhra Pradesh reported 15 fatalities, Gujarat 14, Telangana eight and Rajasthan six. Assam, and Jammu and Kashmir reported five deaths.
Of the total 22,123 deaths reported so far, Maharashtra tops the tally with 9,893 fatalities followed by Delhi with 3,300 deaths, Gujarat 2,022, Tamil Nadu 1,829, Uttar Pradesh 889, West Bengal 880, Madhya Pradesh 638 and Karnataka 543.
The health ministry stressed that more than 70 per cent of the deaths occurred due to comorbidities
According to the Indian Council of Medical Rsearch (ICMR), a cumulative total of 1,10,24,491 samples have been tested up to July 9 with 2,83,659 samples being tested on Thursday.
Maharashtra remained the worst-hit state with a record single-day jump of 7,862 new cases taking the state's tally to 238,461. Earlier WHO praised the state's efforts in curbing coronavirus spread in Mumbai's Dharavi slum.
Tamil Nadu reports the second highest number of COVID cases at 1,30,261, with 3,680 positive cases on Friday. Among these, Chennai reported 1205 positive cases, bringing the city's total to 74,969. Meanwhile Tamil Nadu Cooperative Minister Sellur K Raju has been tested positive for COVID-19. This comes just two days after Electricity Minister P. Thangamani was tested positive for COVID-19
Earlier officials and scientists from CSIR, the Department of Science and Technology and Department of Biotechnology on Friday told a Parliament panel that no vaccine appears possible before early next year.