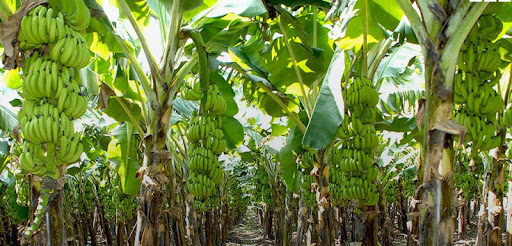 Grand Nain banana, a variety under Cavendish cultivar, which is cultivated largely in India, is being affected with a mutated strain of TR1 fungus, reveals a recent study by scientists from National Research Centre for Banana (NRCB), Tiruchirappalli.
Fusarium oxysporum f.sp.cubanese, or simply 'Foc', is one of the deadliest invasive fungal pathogen affecting banana crops. Though it is a soil-borne fungus, it can also spread through air and water. The fungus has different types categorized as 'Tropical Race' (TR) 1, 2, 3 and 4.
"Earlier we had a banana variety called Gros Michel. It was ravaged by TR1 disease. In order to replace it, Grand Nain banana was introduced. This banana is known to be resistant to TR1 and TR2 fungus and susceptible to TR4. But our new study shows that these bananas are also prone to newly found mutated strain of TR1," said Dr R Thangavelu, principal scientist, NRCB.
The banana is one of the major fruits consumed widely across the world. An important cash crop, it is being cultivated in more than 150 countries today. There are nearly 1,000 varieties or cultivars of banana and they are divided into 50 groups. The most commonly cultivated and exported variety is Cavendish.
Also read: Govt pegs 7% rise in onion output; sees production fall in major fruits
India contributes 21 per cent to global production and it is the largest producer in the world. More than 20 varieties of bananas are cultivated in nearly 9 lakh hectares across the country, of which most commonly cultivated is Cavendish cultivars.
Crops from TN affect North
In 2009, Thangavelu's publication became the first in the world that showed the TR1 can also affect the Cavendish cultivar. It was detected in the banana fields in Theni district and due to the advice of Thangavelu, many banana growers shifted from the Grand Nain variety to Nendran and Red Banana varieties.
The Grand Nain bananas from Theni are more popular. So people took suckers (a lateral root close to mother plant) from here and developed in labs through tissue cultures. Those plants were cultivated in the states like Gujarat, Maharashtra, Madhya Pradesh and West Bengal. Now, the TR1 is affecting Cavendish cultivars in those states, said Thangavelu, adding that more problems are in the offing.
"Like, how a new strain of Covid has been found in UK, we have found a mutated strain of TR1 and we named it as 'VCG 0125 and VCG 012220'. This strain has been recently identified in Bihar and Uttar Pradesh. It means, though for academic purpose we name the fungus types differently, the fungus which affects the Grand Nain variety is everywhere," said Thangavelu, whose paper on this new strain was published in December 2, in The American Phytopathological Society's 'Plant Disease Journal'. This is the first identification of such a strain.
How Centre & states have responded
Besides TR1, another major fungus type that affects Grand Nain banana is TR4 fungus which causes Fusarium wilt or Panama disease. It was first detected in Bihar in 2015 and Uttar Pradesh in 2018. Though TR4 fungus was identified in 2015, it was officially announced in 2019 through a paper published in a scientific journal.
Following ICAR has said to be developed a biopesticide to contain the fungus spread.
The fungus has so far not identified in Tamil Nadu. However, under TR4 fungus, there is another category called STR4. The strains affecting Cavendish bananas in subtropical regions where cold stress is there are called as 'subtropical race 4' (STR4) and such a strain has been found in the western part of Tamil Nadu, The Federal has learnt. The findings are yet to be published officially.
Also read: Why TN delta farmers continue to struggle with short-term cropping
Speaking to The Federal, Gagandeep Singh Bedi, state Agricultural Secretary, said awareness and technical advice are being given to the farmers by horticulture department officials regularly about this disease along with necessary control measures.
"Banana cultivation in Tamil Nadu is taken across 95,000 hectares. Dwarf Cavendish is cultivated in specific areas of the state and the cultivation area of this specific cultivar is lesser when compared to other varieties," he said.
The application of Trichoderma viride, a biofungicide which is being produced and are now available in the farms of state horticulture department, is found to be effective in controlling this disease. Besides, farmers must adopt crop rotation, he added.
"In Tamil Nadu, planting materials are generally used by the farmers only from nearby fields, within the state or through tissue culture plants. As the planting materials could be the carrier of this disease, farmers are advised not to procure any banana suckers from other states. Though there is no infestation now, we have requested the farmers to follow precautionary measures," said Bedi.
However, it appears farmers in the state are largely unaware. G Ajeethan, secretary, Tamil Nadu Banana Growers Federation, says though the research centres such as the NRCB are continuously creating awareness, the farmers are not heeding to advices.
"We don't have a wind flow from northern parts of the country. So as of now, the fungus has not affected the state. But we cannot be lethargic. Farmers should cultivate different varieties of banana and must adopt to cultivate different kinds of crops," he said.
Covid and TR fungus
Interestingly, weeks after Thangavelu's paper, S Sandilyan, invasive alien species expert, National Biodiversity Authority, has published a paper in Current Science issue that demanded fungus types TR4 crises "should also be considered as important as that of Covid-19".
Alleging that people's understanding of invasive alien species and climate change are scant, Sandilyan says the lack of awareness has led to the invasion of fall armyworm (FAW), an invasive pest that affects maize cultivation in India.
Also read: TN farmers await Kuruvai subsidy price, delay Samba crop sowing
"The governments and farmers here did not pay attention to the warnings made by Food and Agriculture Organization and the Centre for Agriculture and Bioscience International. In 2018, Tamil Nadu was devastated by this pest. The state government has rolled out compensation worth ₹ 187 crore. For 2019, they have not yet calculated," he said.
The Indian Council for Agriculture Research (ICAR) and the NRCB have reported that states like Tamil Nadu, Karnataka, Odisha and West Bengal are probe to TR4 invasion. According to ICAR, India will lose ₹ 50,000 crore annually due to TR4 infection in coming years, said Sandilyan.