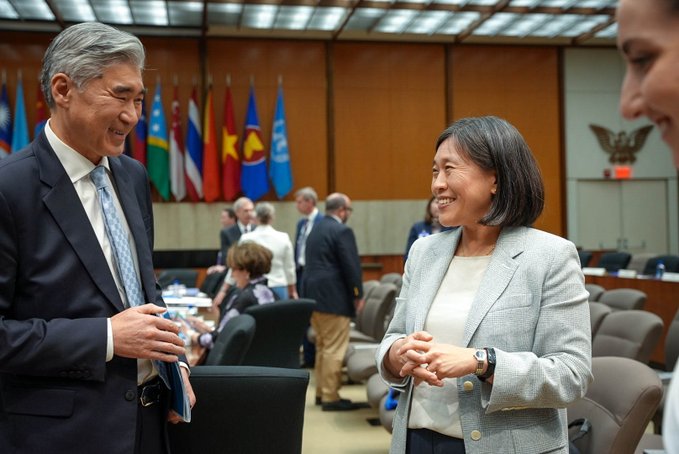 India, US decide to end outstanding trade-related disputes at WTO
Taking a leaf in their bilateral relations, India and the United States have agreed to end six key trade disputes at the World Trade Organisation (WTO), while New Delhi will also remove retaliatory customs duties on certain American products such as almonds, walnuts, and apples.
The six disputes include three initiated by India and as many by the US.
Announcing this, United States Trade Representative (USTR) Katherine Tai in a statement said that these tariff cuts will restore and expand market opportunities for US agricultural producers and manufacturers.
A joint statement issued after the meeting of Prime Minister Narendra Modi and US President Joe Biden said that both countries have taken steps towards deepening bilateral cooperation to strengthen their economic relationship, including trade ties. "The leaders welcomed the resolution of six outstanding WTO disputes between the two countries through mutually agreed solutions," the statement said.
Also Read: PM Modi's engagements during his State visit to US
The USTR said that the two countries "have agreed to terminate six outstanding disputes" at the WTO. These include countervailing measures on certain hot-rolled carbon steel flat products from India, certain measures relating to solar cells and modules, measures relating to the renewable energy sector, export-related measures, certain measures on steel and aluminium products, and additional duties on some products from the US.
According to trade experts, both countries can resolve the disputes on mutually agreed terms and later inform the Geneva-based WTO about the same.
Commenting on the development, Union Minister of Commerce and Industry Piyush Goyal said that this decision is a "big victory" and will be mutually beneficial for both countries. He said, "It's a 'package deal' and now there are no pending India–US disputes at WTO."
In 2018, the US imposed 25 per cent and 10 per cent import duties on certain steel and aluminium products, respectively, on grounds of national security. In retaliation, India in June 2019 imposed customs duties on 28 American products, including chickpeas, lentils, almonds, walnuts, apples, boric acid, and diagnostic reagents.
The US had filed a complaint in the WTO about India's support measures to its export sector under different schemes. In 2019, a WTO dispute panel ruled that India's export measures are inconsistent with global trade norms. The US is the largest trading partner of India. In 2022–23, the bilateral goods trade increased to US$ 128.8 billion as against US$ 119.5 billion in 2021–22.
Also Read: Modi discusses India's reforms trajectory with top US thought leaders
According to WTO rules, a member country can file a case in the Geneva-based multilateral body if they feel that a particular trade measure is against the norms of the world body. Bilateral consultation is the first step to resolving a dispute. If both sides are not able to resolve the matter through consultation, either of them can approach the establishment of a dispute settlement panel.
The panel's ruling or report can be challenged by WTO's appellate body. Interestingly, the appellate body is not functioning because of differences among member countries to appoint its members. Several disputes are already pending with this body. The US has been blocking the appointment of the members.
(With agency inputs)